493 total views
Kids bouncing with nervous energy, waiting for their chance to shine. Parents watching from the sidelines, proud and excited. Teachers happily watching their students' hard work finally pay off. Sounds like your average kids' sporting event, right? Possibly. Or your school's annual spelling bee. These exciting events are perfect for giving students a chance to develop perseverance, camaraderie, and courage while having a blast preparing for friendly competition. Read on to learn 15 tips to holding an amazing bee this year.
1. Spelling bees are just what our classes need right now
There are so many reasons to hold a spelling bee at school. Bees have been shown to boost students' interest in reading and increase their understanding of the origins of languages. Additionally, they build character and students' public speaking skills. This isn't just for the winners, either. The fun activities and preparation leading up to a spelling bee are just as worthwhile as the bee itself. Finally, holding a bee can be a return to "normal" that many students could benefit from right now.
2. Enroll your school in the Scripps National Spelling Bee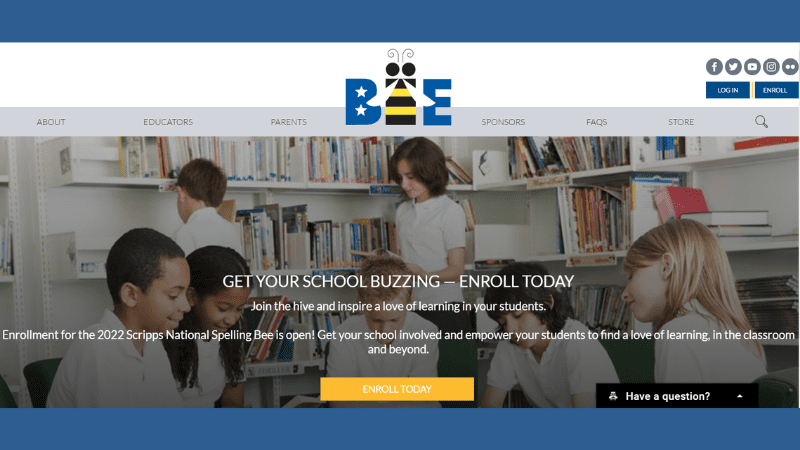 Even if you're only thinking about holding a small bee in your classroom, the Scripps National Spelling Bee has tons of great resources ready to help you out. Already know you want your entire school to participate? Awesome! The Scripps National Spelling Bee website makes it super easy to enroll. Just follow the instructions on the "Enroll Today" page. It walks you through everything needed to get started. They've even made an awesome step-by-step video to help you out.
3. Use the resources from the Scripps National Spelling Bee to get started
Once registered, you'll gain access to all of the resources provided to help students prepare for the bee. The site does an amazing job of walking Bee Coordinators (the staff member who is going to coordinate the bee) through the planning process. There are videos and PDF files to help you choose whether your bee will be classroom only or schoolwide. Similarly, there are instructions for whether you will hold your bee in person or, if need be, remotely. Additionally, teachers gain access to all of the materials they provide to support literacy instruction regardless of whether or not a class participates in a bee. You will get word lists, pronunciation guides, step-by-step instructions on how to hold small bees in your own classroom or schoolwide bees, and more.
4. Start building excitement with your students
This is the fun part. While the competition itself will speak to some of our students, there are plenty of ways to get all your students excited about your upcoming spelling bee. For some, nothing is more exciting than the prospect of prizes. If you have some students who would flip for a baseball cap or other prize, check out the Scripps National Spelling Bee Shop and choose a few items for the winners and participants.
Help your students start looking forward to this spelling adventure by showing them some of the excitement of previous Scripps National Spelling Bees. Even the most reluctant speller will have a hard time keeping a straight face while watching a young contestant learn that the word he has to spell is "sardoodledom." As you pass out the word lists, have students share the ones they feel are the weirdest, funniest, or maybe even the most difficult.
Or inspire them with an afternoon (or rainy-day recess) showing of "Akeelah and the Bee," an excellent film about an 11-year-old girl from South Los Angeles with a talent for spelling. Your students will cheer on Akeelah as she fights the odds to make it to the Scripps National Spelling Bee while perhaps becoming inspired to work toward that same goal themselves.
5. Make it a family activity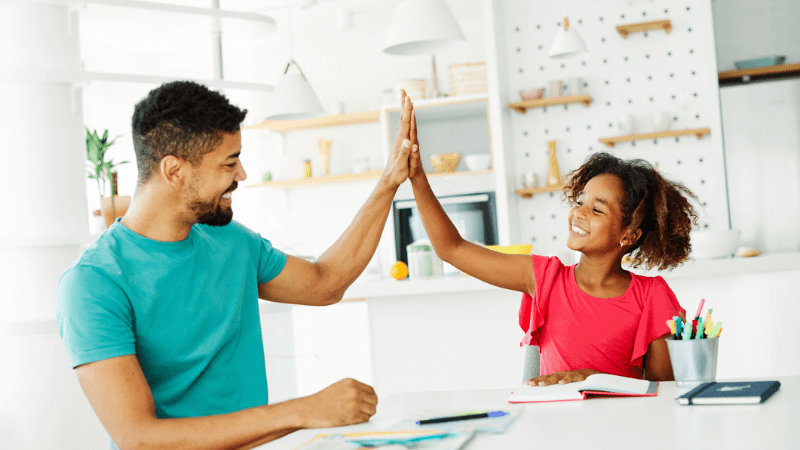 The Scripps National Spelling Bee has teachers' backs with easy-to-read information and even email templates to send home to parents. Make sure you reach out to your students' parents to let them know what's going on and how they can get involved. Helping their child study is one of the most obvious methods of participation, but they may also want to volunteer to be an official during your competition or help plan the schoolwide spelling bee.
6. Add some vocabulary rich books to your classroom library
One of the greatest aspects of the Scripps National Spelling Bee organization is its commitment to more than just spelling bees. It also works to help students build their vocabulary and reading comprehension skills. Each year, the Bee publishes the School Spelling Bee Study List, a list of 450 words to help students prepare for school-level spelling bees. These words come from a list of books carefully selected by the Bee for their engaging and age-appropriate content as well as their rich vocabulary. The Great Words, Great Works list is available to all teachers and is broken down by grade level and/or by reading level.
7. Encourage the students who might not always receive recognition
Third-grade teacher Courtney Sutton stated, "The Bee supports my goal to inspire students' love of reading. There might be a child who doesn't want to pick up a book, but they'll dig into a list of words and a dictionary to figure out what they really mean." Additionally, a spelling bee allows us to reach out to students who wouldn't normally participate in competitive situations. While our student-athletes often get the lion's share of competitive opportunities, a bee gives our more academically-minded students a chance to enjoy the spirit of competition as well. Spelling bees provide students with numerous opportunities for little victories and big victories alike—taking the risk of signing up, improving their spelling skills, participating in the spelling bee, etc.
8. Download the app so your students can practice on their devices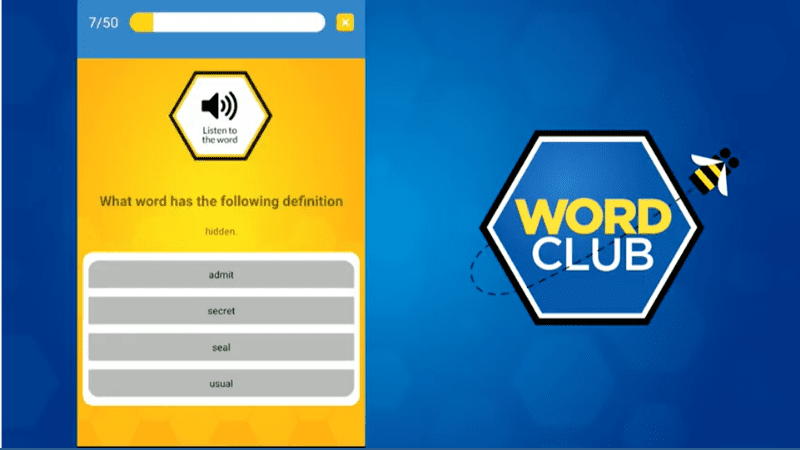 Another free resource provided by the Scripps National Spelling Bee is an app called Word Club for mobile devices and tablets. It provides users with 50 free words from the 2022 Words of the Champions list to get started and is adaptable to different study and quiz styles for both spelling and vocabulary. More words are available for in-app purchase. The game-play style will keep students motivated while allowing parents to purchase even more study options for their child if they choose.
9. Make spelling instruction fun and engaging
By making your classroom or school spelling bee an important event, you're sending the message that spelling is a useful and worthwhile skill. As students and their families start to get excited, it will become even easier to make spelling instruction an important and valued part of daily instruction. Whether it's something relatively simple, like a memory game of matching words to definitions or a fun whole-class activity like spelling word bingo, your students will look forward to the time they spend studying words. As a teacher, you can remain up-to-date with the latest in spelling bee news and instruction by signing up for the Teacher's Beehive, a bi-weekly newsletter crafted especially for teachers by the Scripps National Spelling Bee.
10. Play spelling games to reduce student anxiety
Many students will love the idea of practicing for or even participating in a spelling bee, but might feel a bit nervous at the idea of standing in front of others to spell words out loud. Help prepare them for this by adding spelling games into their daily centers, independent, or group activities. You can do daily "bell-ringers" that include a random student being asked to stand and spell a word. Start with a super-easy one to build confidence and slowly increase the complexity. Need more ideas for spelling games to include in your lessons plans?
11. Hold some practice bees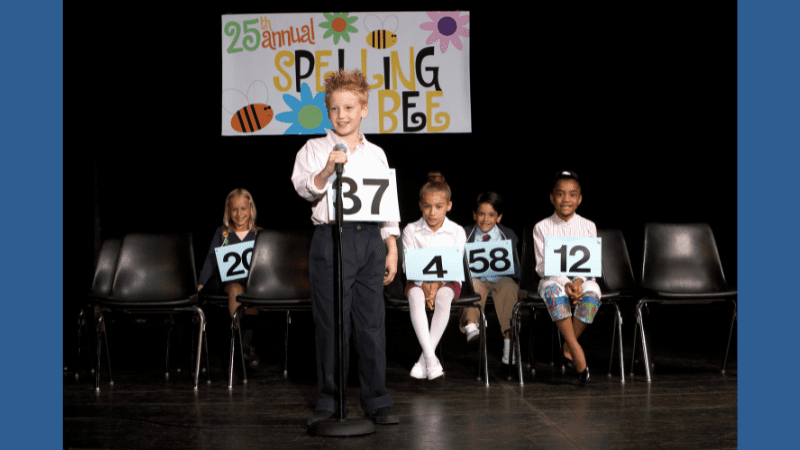 There are several different formats you can use to hold your classroom or schoolwide spelling bee. Because of this, it's a good idea to give your students a chance to see what the format will look like. This is also a great time to go over the rules your students will be expected to follow. For example, according to the Scripps National Spelling Bee rules, a student can't start to spell a word, realize they made a mistake, and go back and fix it. It will take practice for your students to learn to slow down and really think before starting to spell. By practicing first, students will be ready to go when the big day arrives.
12. Involve the entire community
There's something about spelling bees that invokes a feeling of nostalgia and pride in many community members. Maybe they remember their own spelling bee experience. Perhaps they like hearing that schools are still participating in activities that have been part of the educational landscape since 1925. Whatever the reason, spelling bees provide an excellent opportunity for community outreach. Ask local businesses to sponsor prizes for bee participants and winners. See if community members are willing to help with the set-up and running of the bee. By making your school spelling bee a community event, you're showing students that their hard work matters.
13. Make your bee an event to remember
Whether you are only holding a spelling bee in your class, with other teachers in your grade level, or schoolwide, making the bee a big deal only adds to the fun. Set up a special area for the participants to sit while they wait for their turn to spell. Decorate with spelling-themed decor. Have students make signs to cheer on their classmates. If possible, make it a schoolwide event. Gather students together to watch peers compete. Live-stream the event if social distancing rules require it. Invite parents, relatives, and community members to cheer for your hard-working students.
14. Encourage your students to cheer for their classmates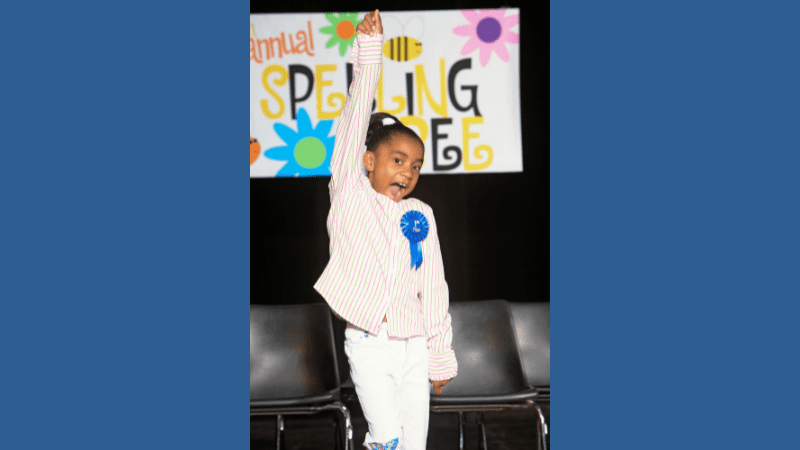 The vibe surrounding your bee is going to be largely dependent on you and your school. If you make it a big deal, your students will respond accordingly. Encourage students to cheer for their participating peers. Discuss good sportsmanship with students who are participating and with students who are cheering for their friends. A schoolwide spelling bee is a great opportunity to discuss and model appropriate ways to support people during competition. It's also an opportunity to model how to support peers when they lose. These skills aren't only useful during the bee, but rather are lifelong empathy-building skills that will serve them well forever.
15. Celebrate all your students for becoming better spellers
All of our students deserve acknowledgment for striving to become better spellers. The Scripps National Spelling Bee even provides a wide assortment of certificates for participants to feel recognized and celebrated. Categories like "Most Improved Speller," "Best Sportsmanship Award," "Poise Award," "Best Peer Coach Award," and more give opportunities to recognize all students for their efforts. Even if a student chose not to participate in a bee or participated but was disqualified in the early rounds, they're better off for having studied spelling words. Studies have indicated that spelling instruction improves reading ability and in a world where young people often communicate more via texts, emails, and online messaging, improving spelling only means they will be better understood later in life.
Ready to learn more and get started? Register your school with the Scripps National Spelling Bee today.
News
Idioms are expressions that have a meaning that isn't immediately obvious from the words themselves. Every language has them,…