231 total views
Augmented and virtual reality are some of education's most exciting new tools. And it's not just because of the cool factor. The educational benefits are clear: augmented and virtual reality apps reimagine learning by giving students access to content that used to be accessible only outside the four walls of the classroom.
Not sure where to start? Here are 7 fun and engaging augmented and virtual reality apps from Verizon Innovative Learning HQ, a site for educators with free apps, lesson plans, professional development courses, and more.
1. Aurelia: Explore underwater ecosystems
Before augmented reality, a class's best bet at exploring deep-sea ecosystems was reading about them in textbooks or watching videos. With Aurelia, students explore multiple underwater ecosystems, engaging with the content just like a marine biologist. In one of the introductory lessons, students must use scientific observation skills to make conclusions about how sea animal bodies adapt to their environments.
2. Career Day: Meet industry experts

It used to require weeks of planning and coordination to get kids to learn about career options. However, by using augmented reality holograms, Career Day brings industry professionals into your classroom. Your students will hear their personal journeys towards becoming experts in their fields. It's also a great way to provide them with role models that are often difficult to access. As an extension activity, students can find someone in their lives to interview to learn more about their careers.
3. CocoCast: Create 3D models
Take "show and tell" to the next level with CocoCast. With this app, students make 3D models to demonstrate their understanding of a variety of topics. It's especially great for design thinking and engineering because it allows students to brainstorm without barriers. They virtually create innovative solutions to complex problems. For example, students can solve problems related to climate change or plastic pollution by creating prototypes for new inventions in 3D. The best part about CocoCast is that it can be used for long-term projects that span the course of several weeks or even short-term design challenges completed over the course of one class period.
4. 5G Covet: Build critical-thinking skills

Teaching critical thinking can be challenging. In order for students to build logic and critical-thinking skills, they need ample opportunities to do so. 5G Covet offers both educators and students a fully immersive virtual reality experience where they can collaborate to solve puzzles and riddles. With 5G Covet, students can build critical-thinking and problem-solving skills while exploring signal strength and integrating valuable STEM lessons.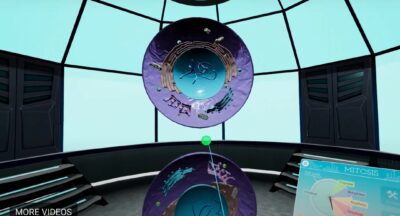 Looking Inside: Cells is sure to engage even the most reluctant learners with its interactive interface. Students collaboratively build, specialize, and divide cells within the app. When students struggle with something as complex as cellular biology, it's mostly because they can't concretely see or experience it. This app removes that barrier for students by making cells something they can actually see and manipulate. Using virtual reality to understand cells makes biology come alive for all students by offering engaging visual, auditory, and kinesthetic learning.
With Visceral Science, students become astronauts who travel to the depths of outer space in minutes. Students witness the life cycles of stars and planets, manipulate celestial bodies, and gain a better understanding of how these bodies change over time and interact with other objects in space. In addition, they build their own solar system, collaborating with peers along the way.

Teach your students about virtual and augmented reality as well as 3D printing with this immersive app. Through a self-guided tour, students will understand the basics of 3D printing and why it's important for sustainability. This app also provides the opportunity to interact with VR and AR in a meaningful way by following along with a virtual scientist expedition. Exposure to these concepts will build technological literacy and creative confidence in your class.
Want to try all these apps and more?
Time to start exploring! The best way to get started with augmented and virtual reality apps in the classroom is to experience them yourself. Head to Verizon Innovative Learning HQ to learn more and try these apps for yourself. This program is a part of Citizen Verizon, the company's responsible business plan for economic, environmental, and social advancement.
News
Recycling in your classroom can easily be made a daily activity. Try implementing one or more of these recycling…