408 total views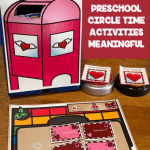 Holidays like Valentine's Day are a great time to pull out seasonal, festive preschool circle time activities. But, as with most things when working with early childhood special education, or any age of special education, we always want to make sure that we are combining our celebrations with meaningful content. So, I like to combine the holiday celebration with learning about the holiday as well as learning about life skills and functional activities related to the celebration.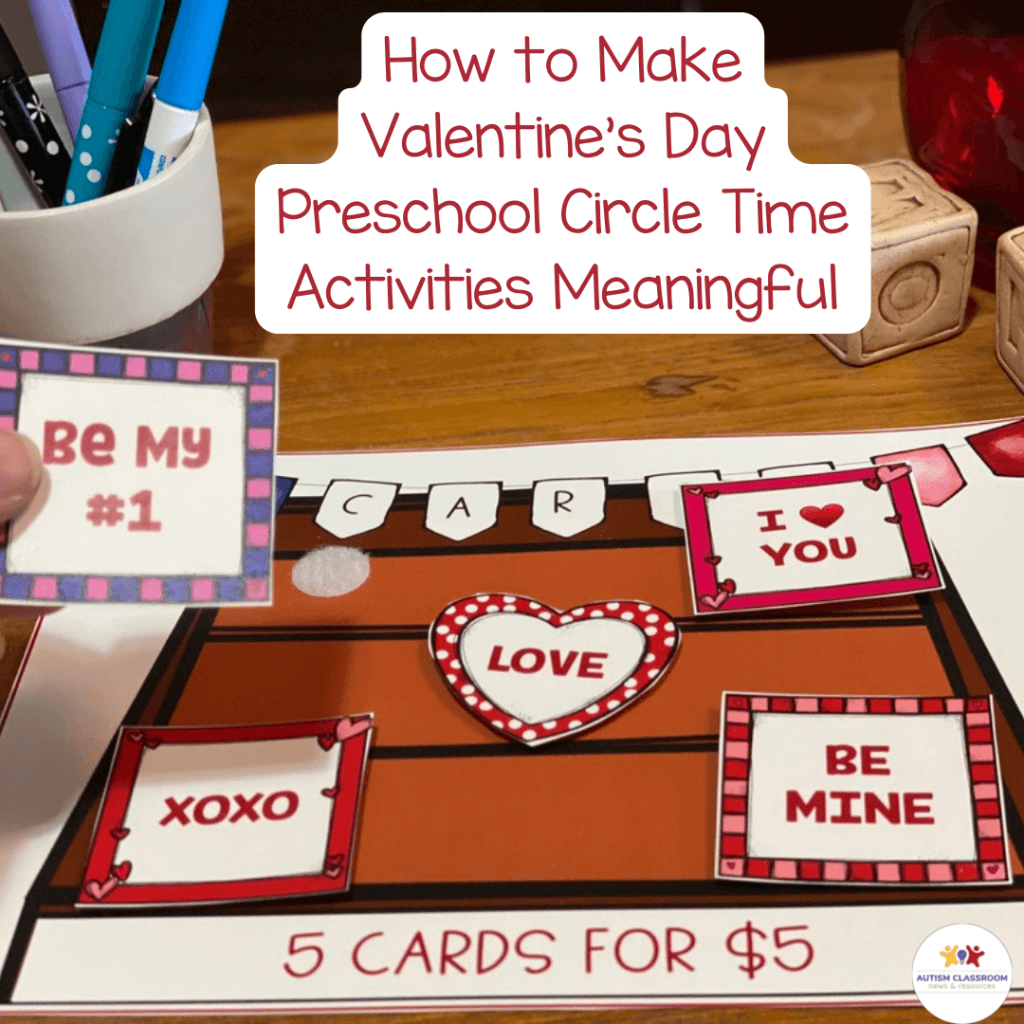 I thought I would highlight some of the life skills activities we can teach with Valentine's Day preschool circle time activities. These are fun circle activities for preschool. And they also will work for an early elementary special education classroom morning meeting. The original morning meeting songs give you the opportunity to teach new activities. Plus, each activity includes opportunities for students to practice common IEP and curricula goals. So I'll make sure to include these common goals including communication, participation, sharing, interacting with peers, and more.
Interactive Book on Writing and Mailing a Letter
This simple interactive book focuses on the process of creating a Valentine and mailing a letter. It is simpler in format than other interactive books in my store, because it's primarily focused on preschool students. So the words and pictures are all on one card, instead of separated.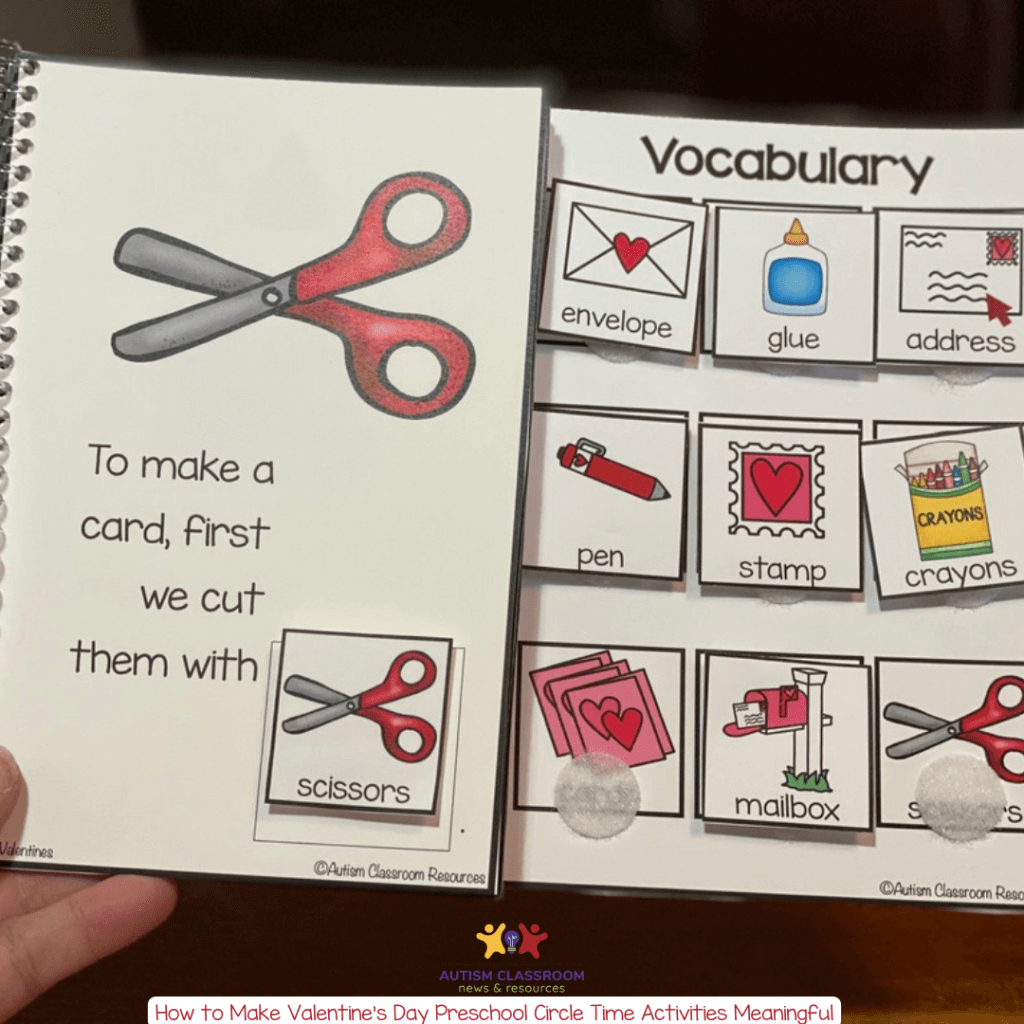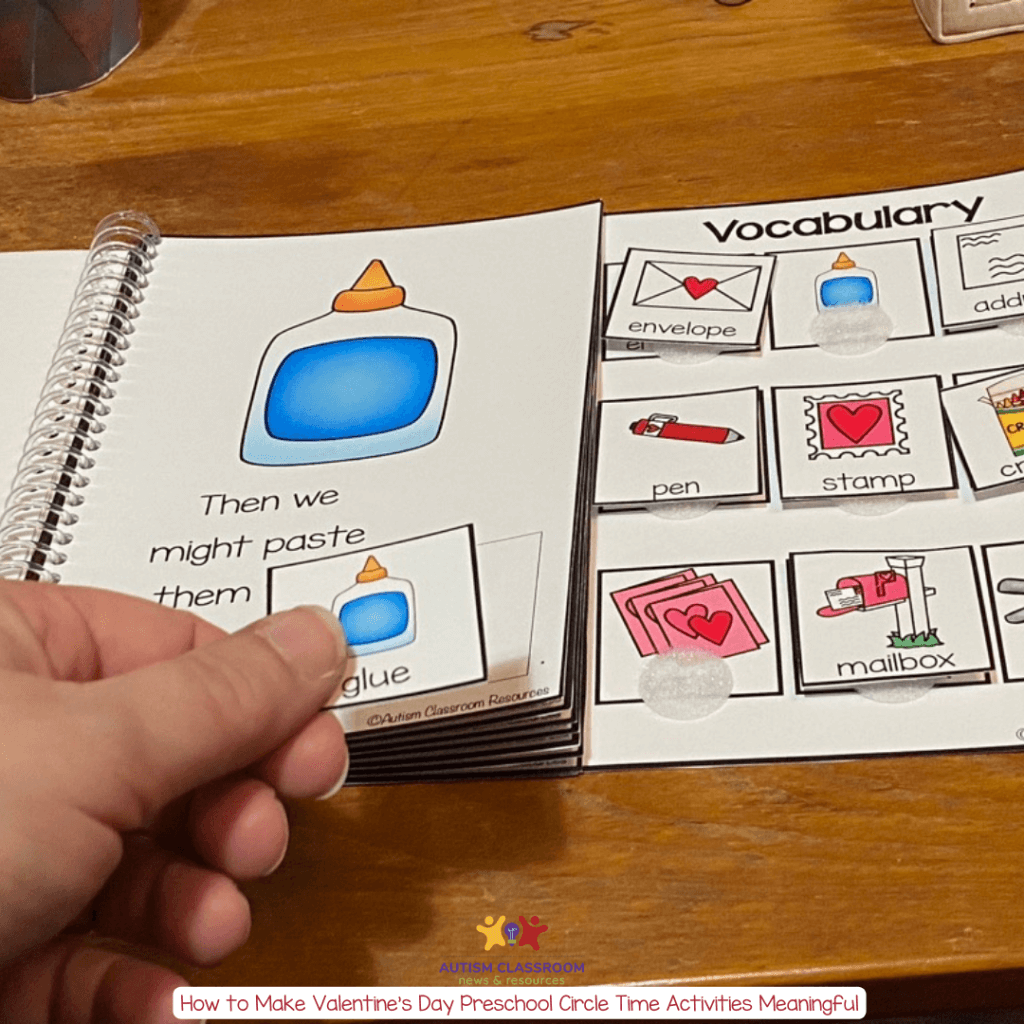 Through the book, the students learn to put the Valentine card together. And they learn about addressing a letter. Then about adding a stamp and putting in the mailbox to mail it. The book targets specific vocabulary: envelope, glue, address, pen, stamp, crayons, card, mailbox and scissors.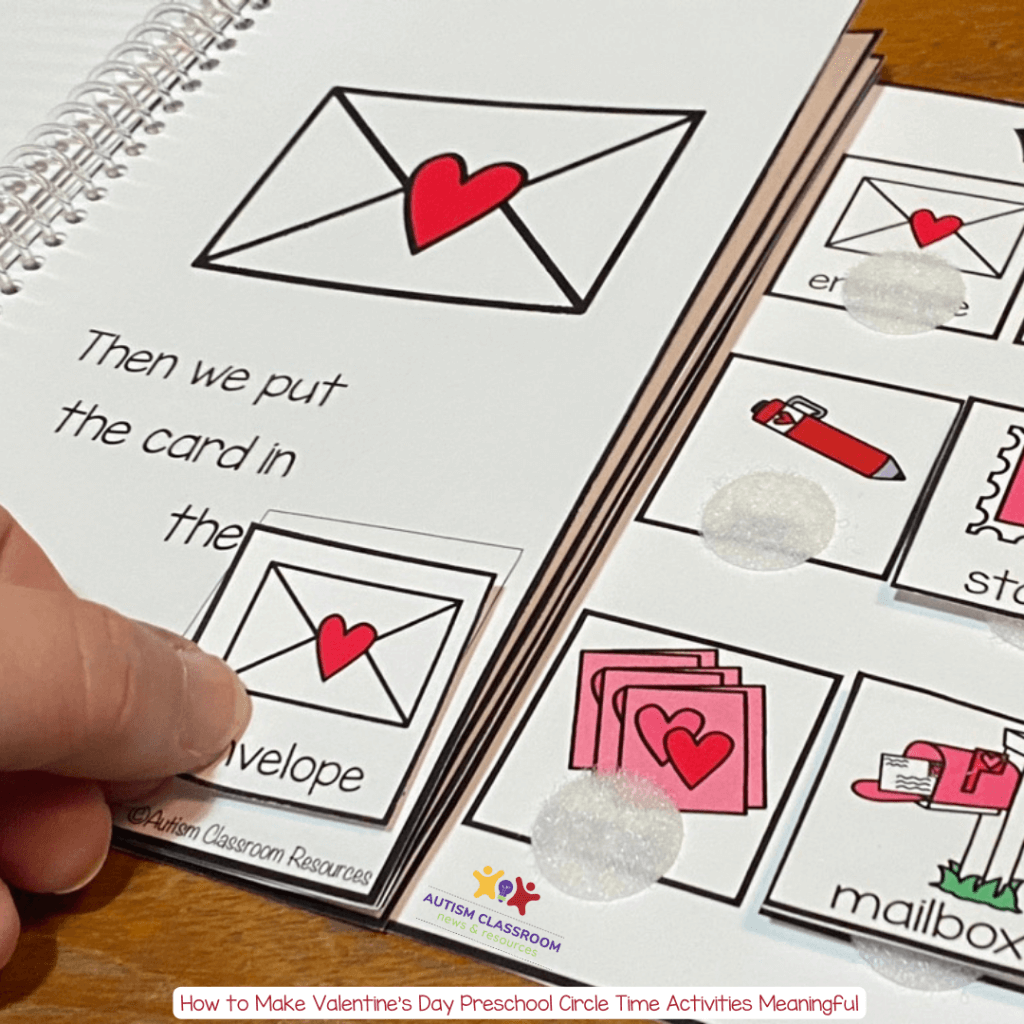 Students participate by matching the pictures to the page with the identical picture while reading the book. In preschool circle time, I typically pass out the pictures. Then I have the students raise their hands when we get to the page with their picture. Then they have a chance to put it on the page. At the end of the story, we can review the steps with the holding page of pictures at the end of the book.
Interacting with Putting Letters in a Mailbox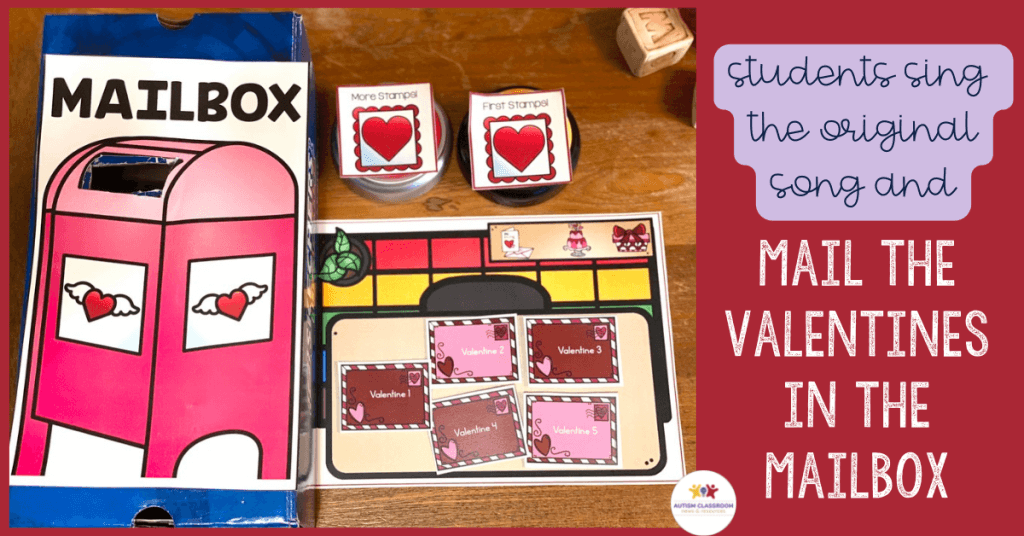 The children sing Five Red and White Valentine's to the tune of 5 Green and Speckled Frogs. A mailbox is built by putting the mailbox over a shoebox with a hole cut where the mail slot will go. The students take the Valentines from the desk and put them in the mailbox. One letter goes in the mailbox for each verse.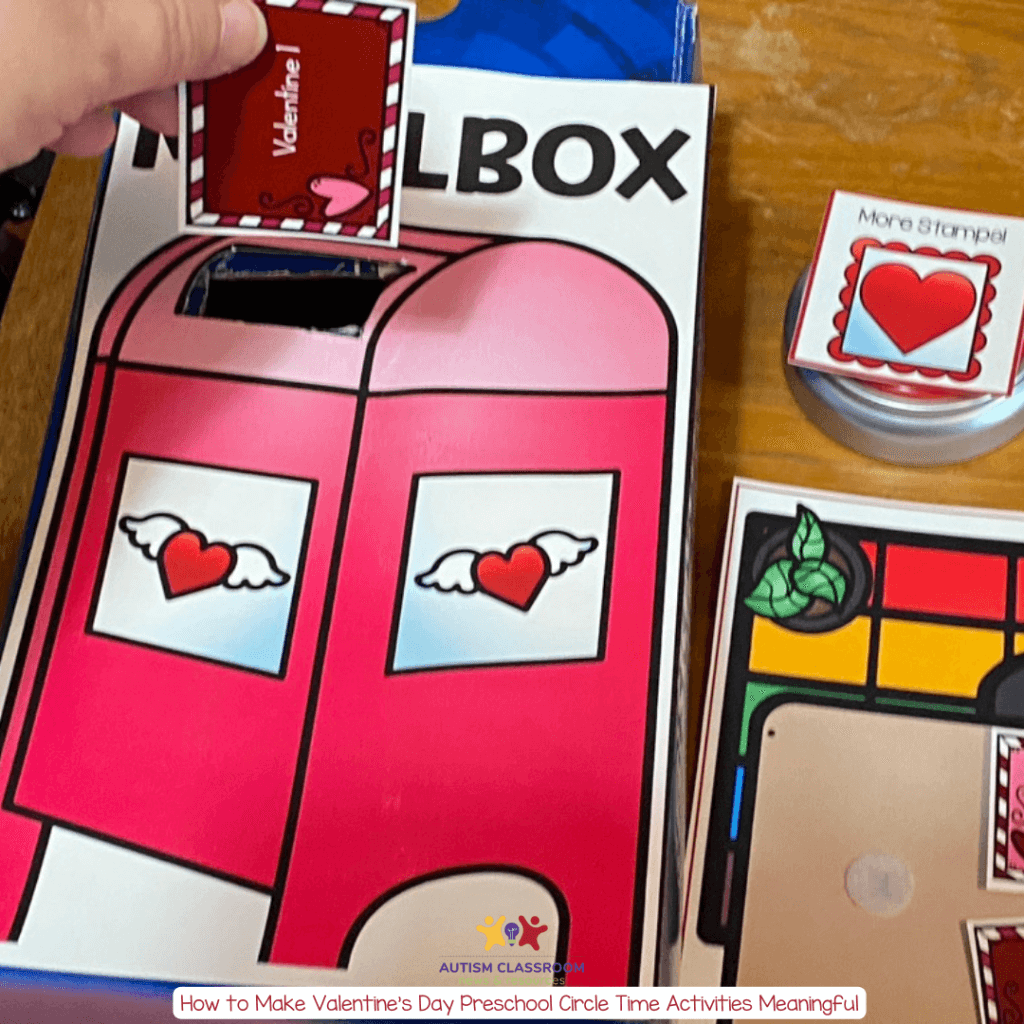 This preschool circle activity well as a good turn taking activity. It also gives you a good opportunity to talk about how the mail works, the role of the mail carrier, and how mail arrives at their house.
Practice Ways to Be Kind is a Meaningful Circle Time Activity
Valentine's Day is a great time to practice being kind. Since it's a holiday about love, it's a useful time to practice making friends and being kind to others. Using this as a theme also means that it is a preschool circle time Valentine activity that can last beyond just the holiday time. So this is a song that you can pull out at other times when you feel your class may need a bit of a reminder.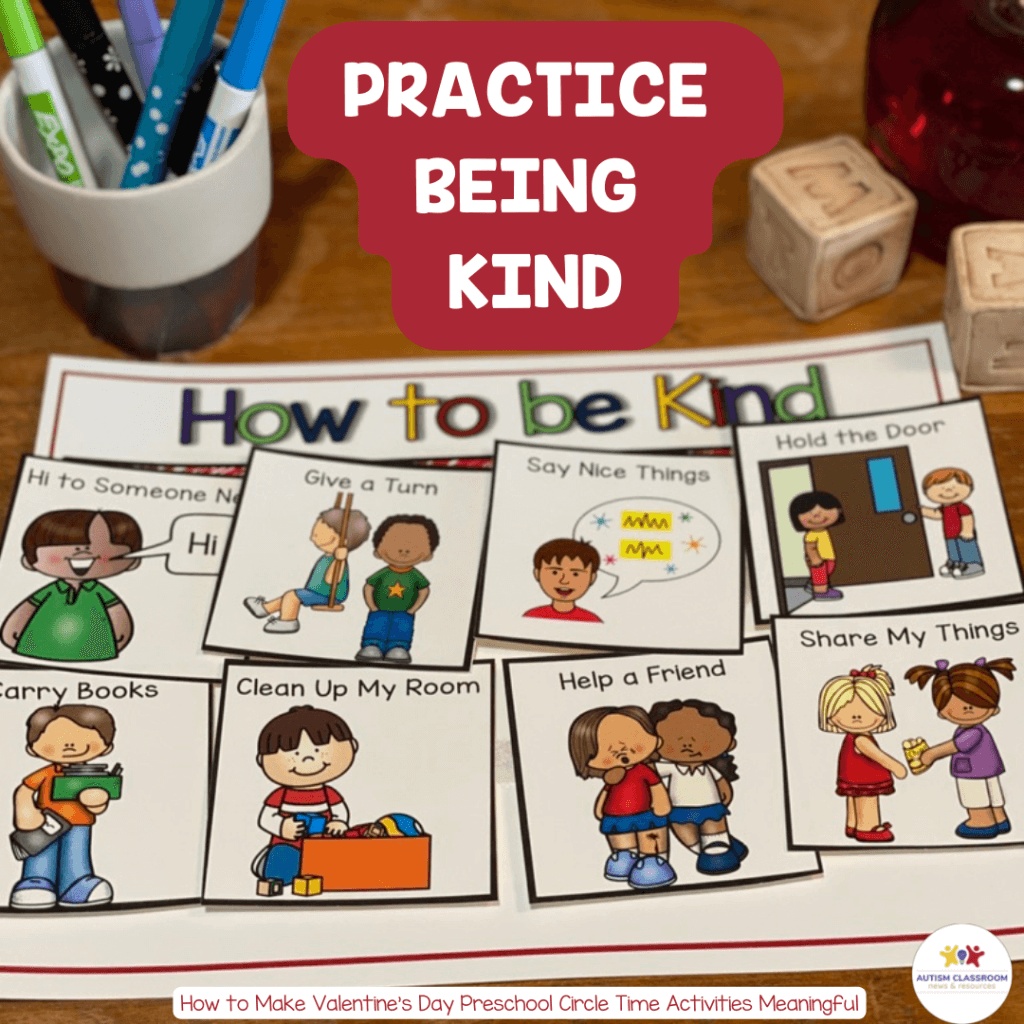 The students use the How to Be Kind board to choose which verse will be sung next. Or you could have them choose which verses to include that that day's song. When the song is complete, they can review examples of each of the actions from the song.
You could also use this as a morning meeting activity in which they choose one activity from the song to demonstrate at some point during the day. Or you could have them recognize kindnesses they have observed from other members of the classroom, using the visuals as cues.
Use of AAC / Switches in Preschool Circle Time Activities
Finally, communication is a big part of making preschool activities for students with special needs or any students in special education meaningful. So we must incorporate opportunities for increased participation by those who use communication devices, are nonverbal or minimally verbal or have limited participation. Using speech generating devices, like simple voice output switches is a great way to do this.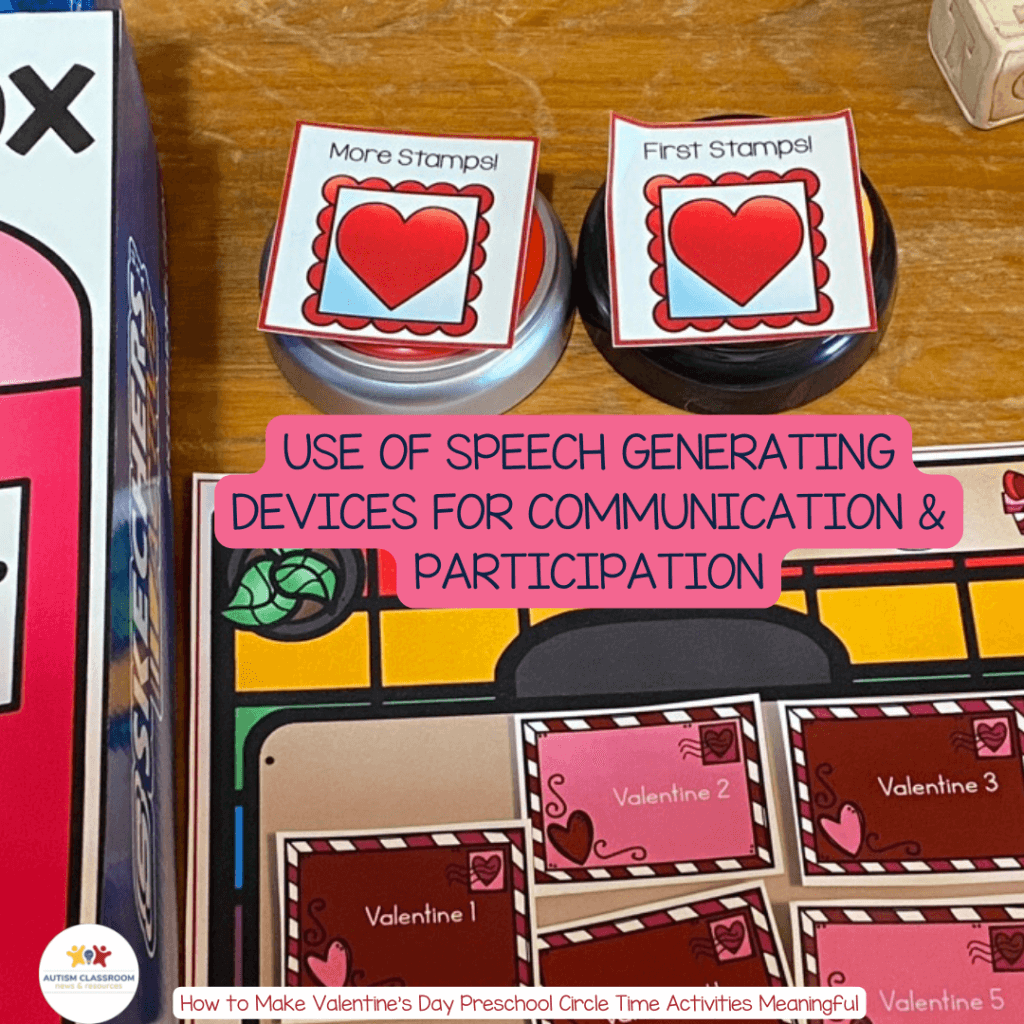 For instance, in this song, one would say, "First Stamps!" and the other says, "More Stamps!" Switches or augmentative communication could be used for other activities like the repetitive chorus in How to Be Kind, "That is How I'm Kind." Increasing opportunities for communication makes participation for all the students more likely and more meaningful.
Clearly we can teach all of these skills with non-holiday circle time activities. And we can teach them with materials for older students as well in special education classrooms. However, inclusion of holiday-related themes allows for the introduction of novel materials and introduction of the same skills and themes with new materials. And that can help improve generalization of the skills that they are learning as well.
Looking for Morning Meeting or Circle Tools?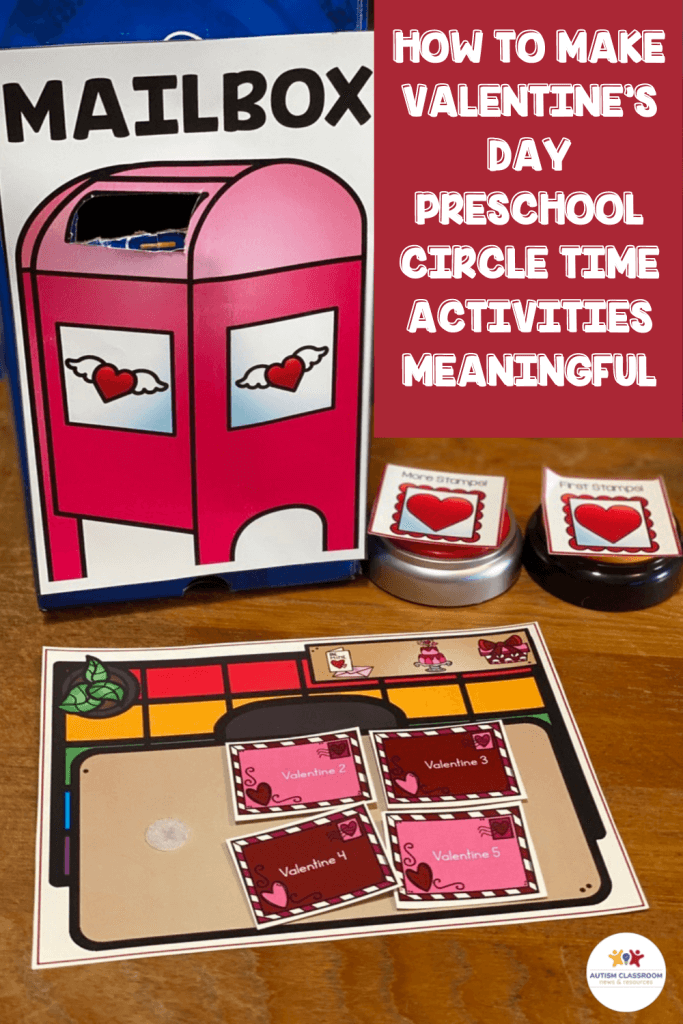 News
Modified On Jun 3, 2023 By Isaac How can you make the most of your university life? What is…