181 total views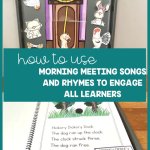 One of the greatest things about morning meeting songs and rhymes is that you can use so many tools and strategies to get your learners engaged and involved. Students easily learn new skills and communicating when the songs are familiar and things become routine. Here are 5 common strategies we use to get students communicating and participating in circle time. Plus there is a free download at the end to try one of the strategies for yourself!
Use Cloze Sentences in Familiar Songs to Elicit Language
Cloze sentences in language development are similar to those in reading comprehension. We are using a familiar song or rhyme and leaving part of it out to see if the child will fill it in. We do this frequently with young children. All we need are familiar morning meeting songs and rhymes to use. The empty, expectant waiting builds momentum for the child to fill in to get the desired action. Just don't forget to play it up with that expectant look for the group! And make sure the adults in your room know what you are waiting for, so they don't fill in the blank for the students!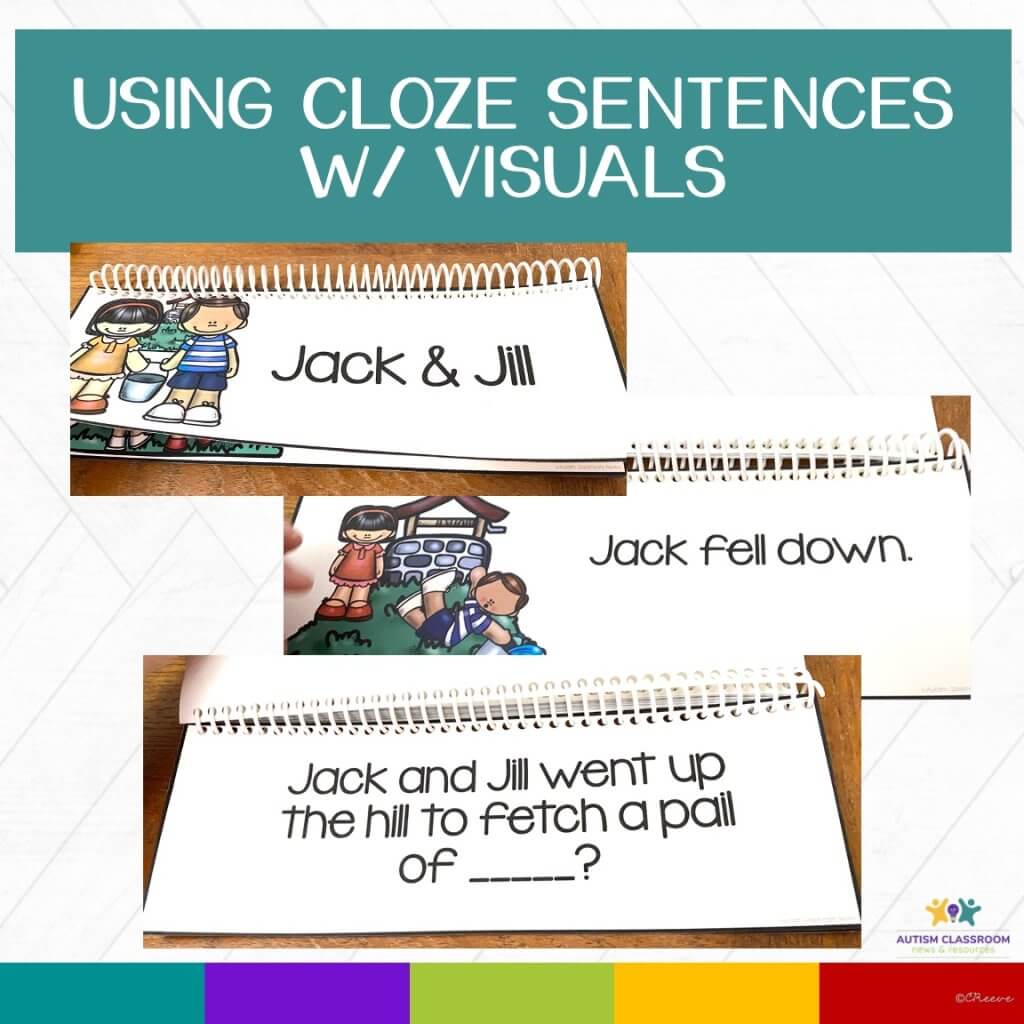 The Jack and Jill rhyme, above, is a good example. The picture shows using the rhyme to facilitate practicing answering comprehension of the rhyme to build into answering questions (the next card is a question based on that line of the rhyme).
Use of Visual Supports in Morning Meeting Songs
You know I love a good visual support. And this B-I-N-G-O support has always been one of my favorites. I love how it clearly shows the students how many times to clap!! It makes it so easy for the students to follow along. And it even reminds the adults where we are when we get distracted. (Redirecting behavior anyone?).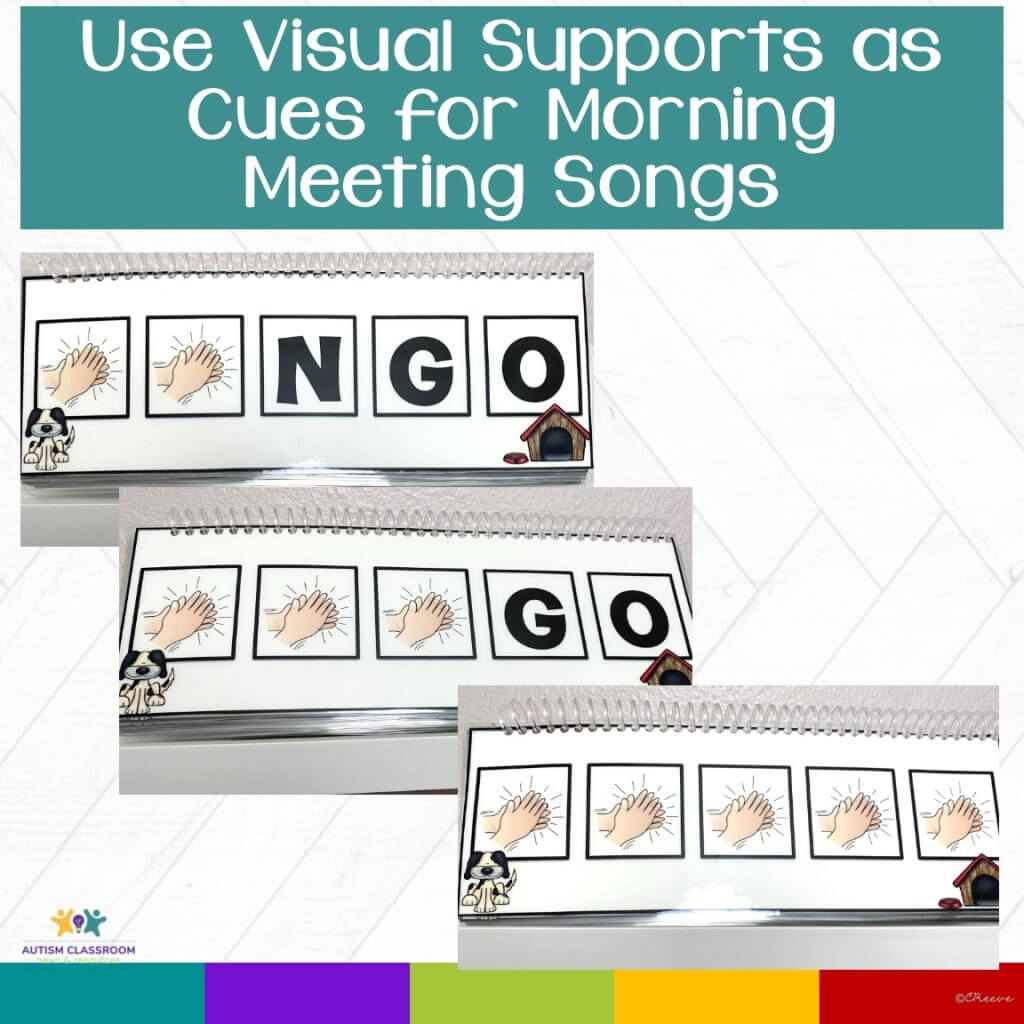 This type of visual is great as a flip book or a Slide presentation because you can move through it easily and quickly. Other visuals might include putting up the words or just pictures of verses of the morning meeting songs.
Manipulative Pieces with Morning Meeting Songs & Books
Giving students something to hold in their hands is always a great practice to keep their hands busy. Manipulative pieces that relate to the story or rhyme are a good tool because it also helps keep them focused on the task. I love interactive books for building literacy, and they area also great for older students as a morning meeting activity. For example here are how you can use interactive books for teaching life skills in morning meeting. One of the reasons interactive books are so great at building engagement is precisely because they are interactive. It's because they have those manipulative pieces.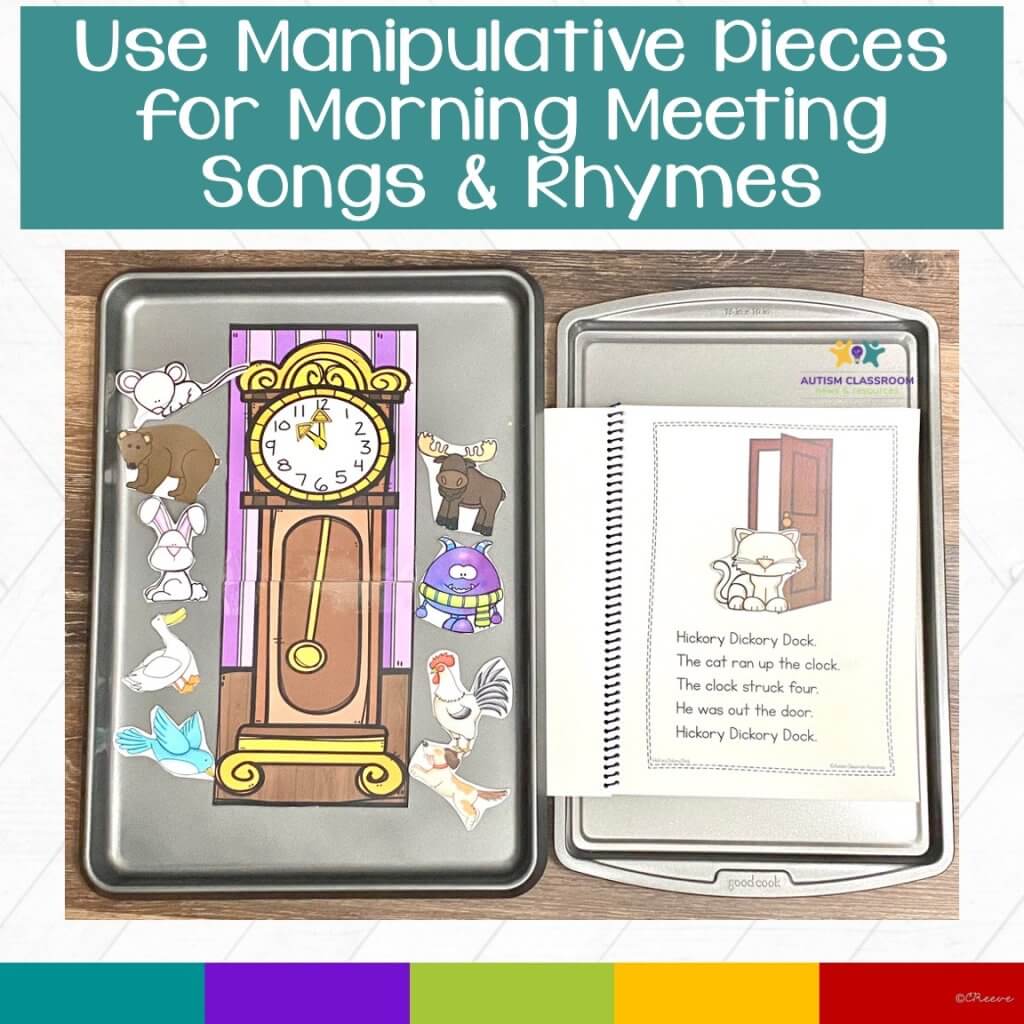 With the Hickory Dickory Dock activity above, I decided to combine the manipulatives of an interactive book with the rhyme familiarity of a nursery rhyme and even add some AAC switches into the mix (see the next section for more on that). The great thing here is that the kids not only choose a piece to put in the book, they actually move their piece up the clock with the rhyme and put it on the page of the book when "runs down." Then it's easy to review the sequence by going back through the book.
AAC Switches Increase Communication Opportunities in Circle or Group Time
Speech Generating Switches, like those shown in the pictures below, are great to allow all students to participate in morning meeting. This gives all students opportunities whether they are verbal, nonverbal, partially verbal or just reluctant to speak. Morning meeting songs and rhymes are perfect for including these types of communication tools into activities because they frequently have repetitive phrases. This makes it easy to program those phrases in for students to sing along.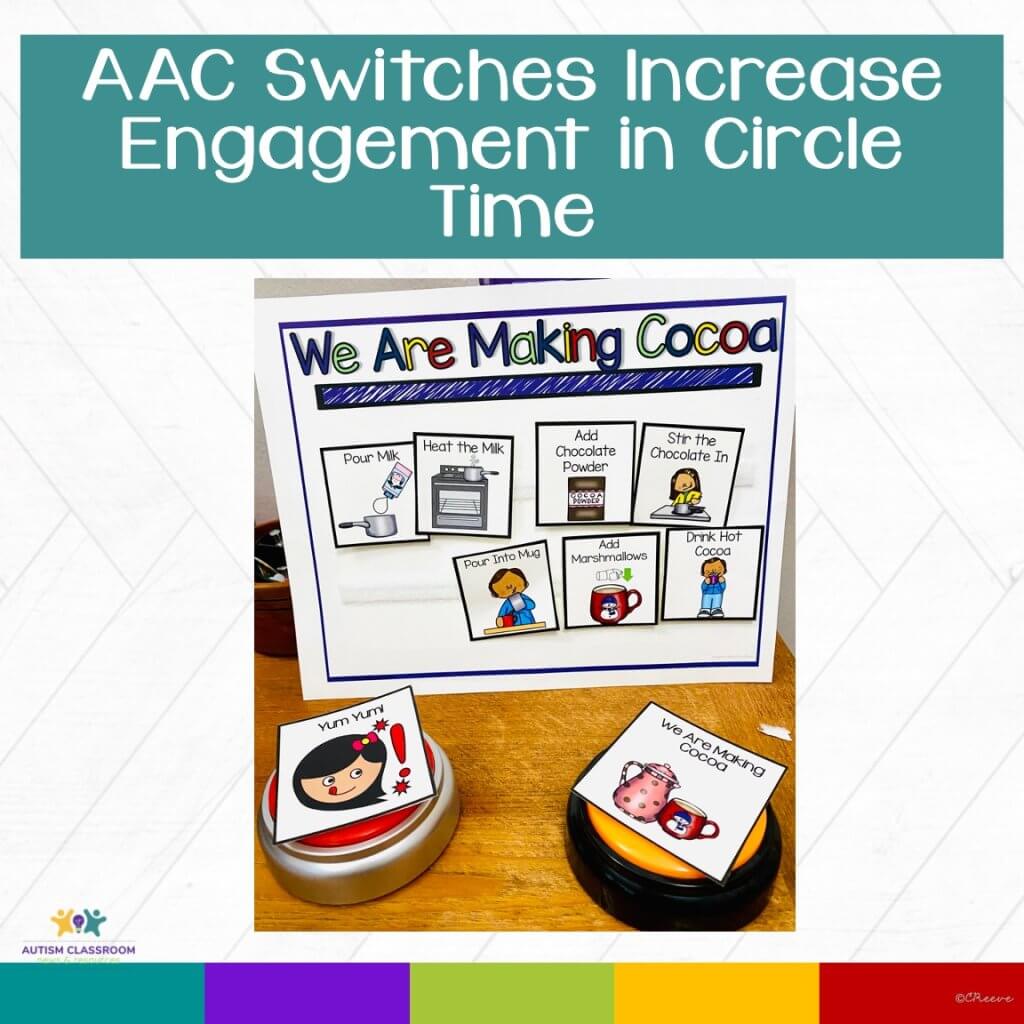 In the picture above the students will use the switches to sing the choruses of "We are making cocoa" and "Yum yum!" in the song. You can multiple students take turns singing those parts of the song. Or you could have one student who routinely sings those parts. This song has 2 repetitive phrases, which makes it easier if you have more than one student using voice output.
Use Visuals for Movement to Maintain Engagement in Morning Meeting Songs
Finally, getting students moving is a sure way to keep them engaged in circle time. However, sometimes it's hard for some students to follow along. And some students may have physical limitations to mean they have limited engagement in music and movement types of activities. But, if you use visuals, everyone can participate. Here's how.
Use visuals. Visuals can help the students who are up and moving stay on task. They help them know what the movements are and when to change what they are doing. You can also use the visuals to review the sequence of the movements at the end of the activity to work on language and recalling events.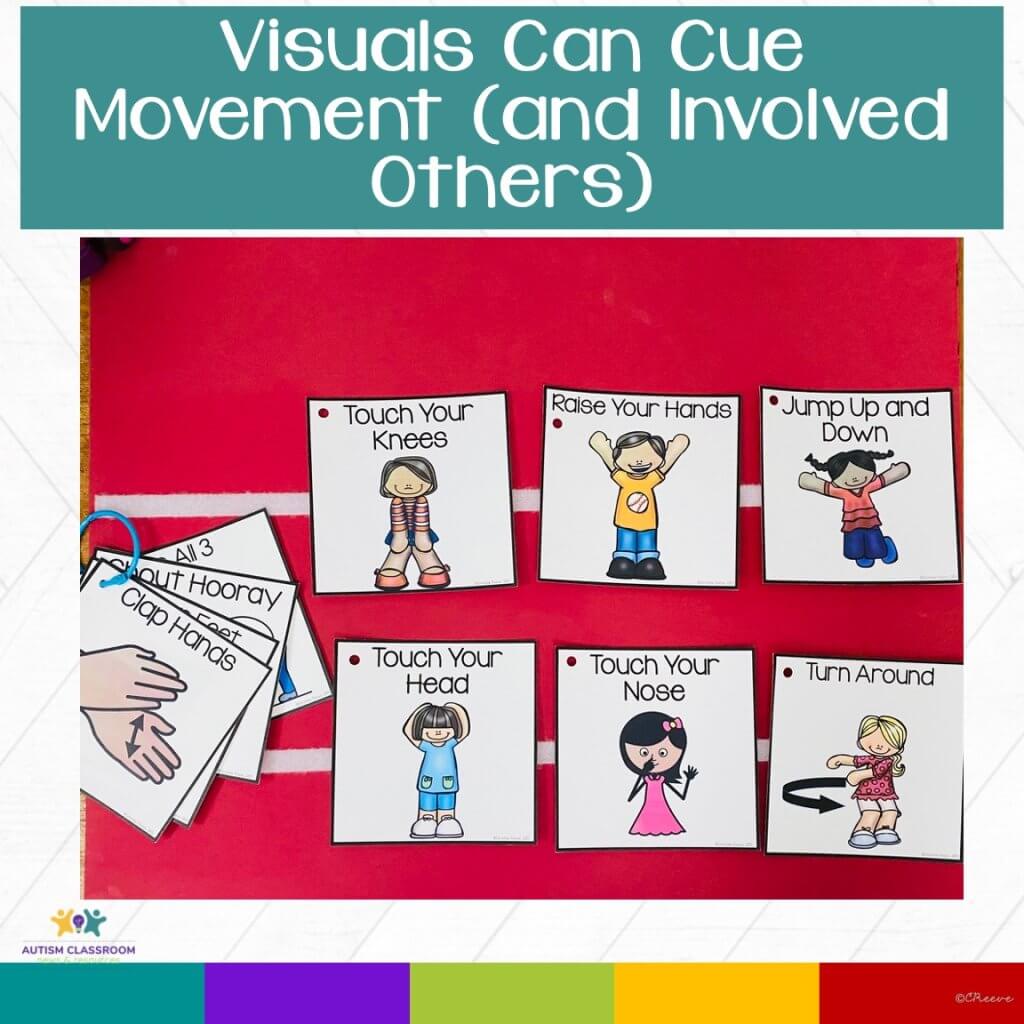 But what about the students who are limited in mobility? The visuals are a great tool for them to use to be the one who direct the others. Give them the visuals and have them use a speech generating device to tell the class what to do. If that isn't feasible, have them hold up the visuals or point to them for someone else to display. I love anything that gives the opportunity for these students to be "in charge" of the class. It's good for the rest of the students to see them in this light as well. To see them as capable and powerful and active participants in the activities. So the more opportunities we take to help that happen, the better.
Grab a Free Set of Visuals and Try Your Own Morning Meeting Song Motivation
Want to try some of this on your own? Grab the free Hokey Pokey visuals below from the Resource Library and give it a shot! You'll be signing up for my newsletter to receive occasional tips, links and more free stuff from me as well as access to the library of free printed resources and videos. And if you are looking for more morning meeting or circle tools, check them out down below!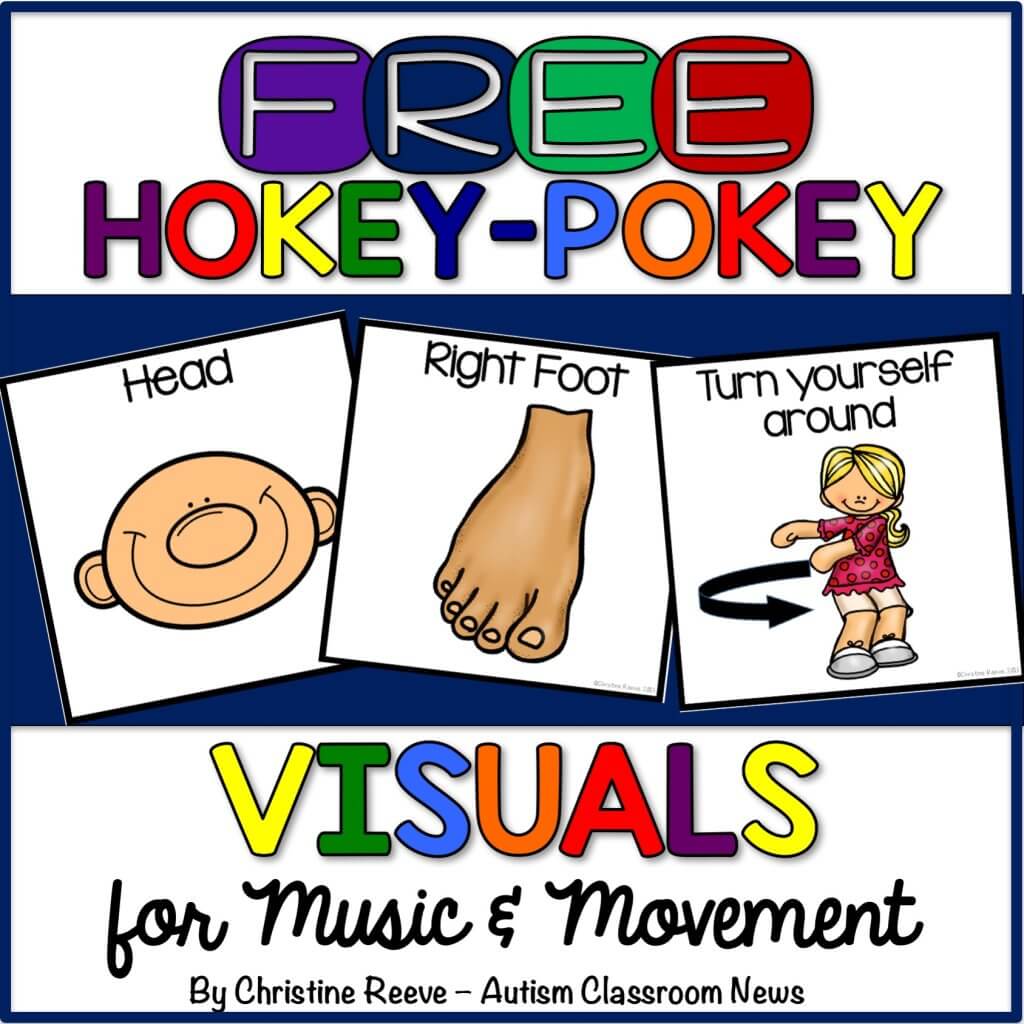 Looking for Morning Meeting or Circle Tools?
News
Recycling in your classroom can easily be made a daily activity. Try implementing one or more of these recycling…