227 total views
Every year, we celebrate Women's History Month in March. We've put together this great collection of our favorite Women's History Month activities to celebrate girls and women who have changed our world for the better. Don't just do these in March, though. These resources are perfect for lessons throughout the school year!
1. Plant something to honor Kate Sessions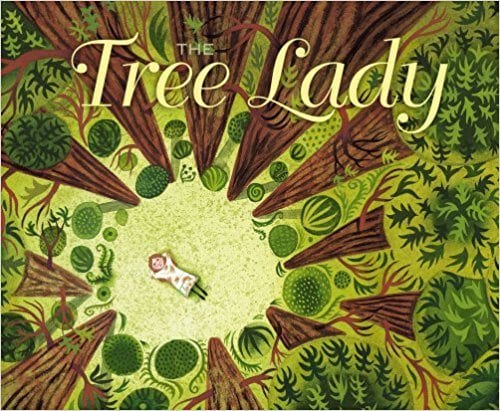 Celebrate Kate Sessions, the hero of The Tree Lady: The True Story of How One Tree-Loving Woman Changed a City Forever, by decorating pots and planting flowers, herbs, or these adorable grass heads. This project can also be used to discuss other eco-conscious women, like Rachel Carson or Wangari Maathai. Take it a step further by incorporating a science lesson and discussing what plants need to grow and survive.
Source: KidLit and Homemade Gifts Made Easy
2. Read great books about women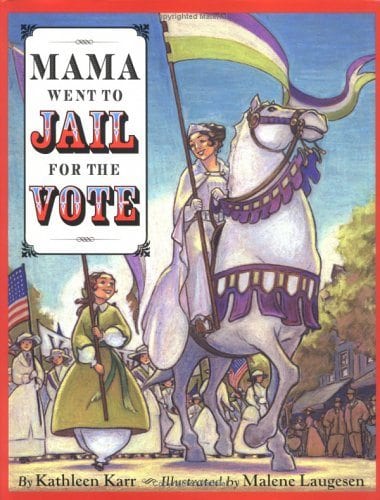 You can teach your students about the suffrage movement by reading this fictional story about a little girl and her mother's fight for the right to vote. Afterward, encourage your students to write a couple of sentences about the theme of the book or research other women who were sent to jail because of their beliefs. Also check out the WeAreTeachers list of great books for Women's History Month.
Source: OurStory
3. Make an astronaut helmet to celebrate Sally Ride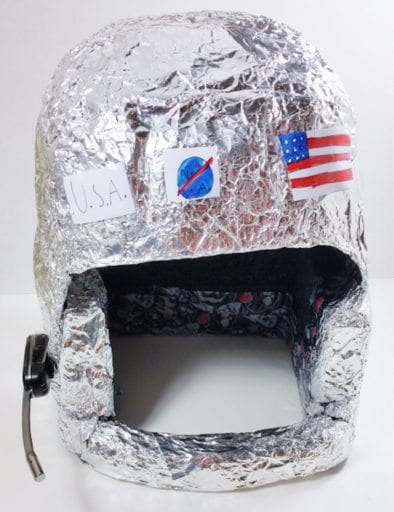 Celebrate Sally Ride, the first woman in space, by crafting this astronaut helmet from recyclable materials. Have students add their own unique touches to the final product and encourage them to think about what they might find on a mission to outer space.
Source: Woo! Jr.
4. Send your students on a virtual scavenger hunt
This virtual scavenger hunt is a great way to engage your students. As they complete this online Q&A, which has questions for every day in the month of March, your students will learn the history, accomplishments, and contributions of 20 famous women in history. After they complete the scavenger hunt, ask each student to share something new or interesting they learned from the activity.
Source: Education World
5. Perform a skit about women in baseball
This short, seven-character skit about the All-American Girls Professional Baseball League is a great way to get your students on their feet and into the cleats of these groundbreaking—and home-run-hitting—women.
Source: teacher planet
6. Discuss women in science
To diagnose brain conditions or injuries, doctors rely on EEG devices which are equipped with suction cup-like discs to attach to the scalp. Unfortunately, they don't attach well to coarse, thick, or curly hair, which can be a problem for Black patients. Engineering graduate Arnelle Etienne designed a solution. Check out these other women scientists to inspire your students.
Source: SuperScience
7. Watch the Makers documentaries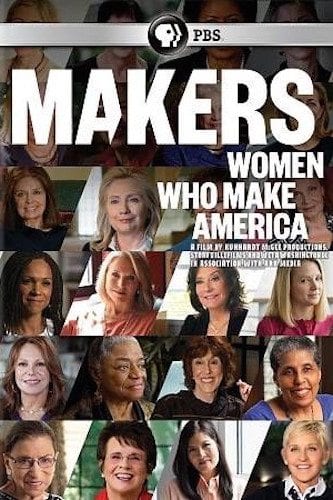 The Makers website offers hundreds of short PBS documentaries about powerful and intelligent modern women in science, business, politics, art, and other fields who are changing the world for the better.
8. Learn about famous women poets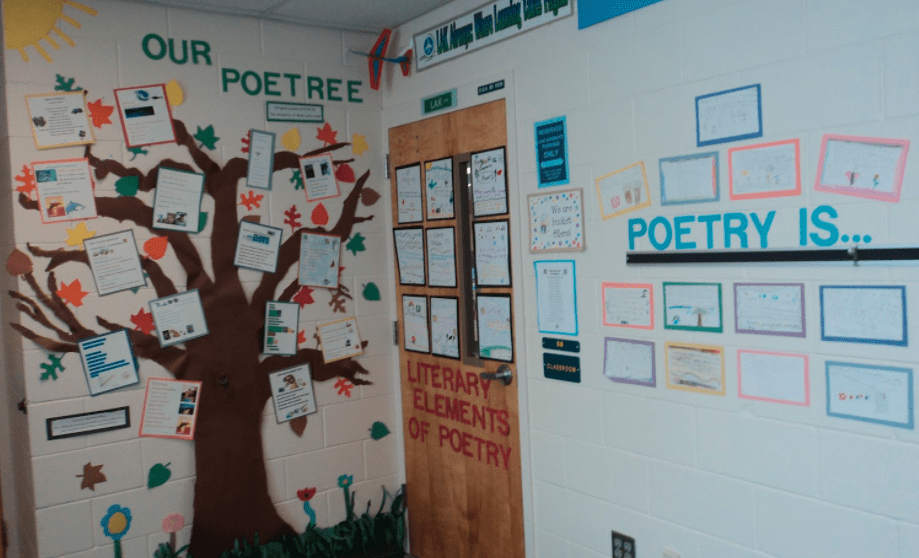 April is National Poetry Month. Get a jump start by challenging your students to learn about famous women poets. Assign each of your students a specific poem, have them write out the poem, and list facts about the woman who wrote it. Then, put the pieces on display! We love this poetry tree created by a 2nd-grade classroom. You can easily borrow this idea!
Source: LAK Airways
9. Make a mint-tin book report
There are so many great books out there on important women in history. Have students choose a book to read and make a mini-tin book report on it, using this free template. Since there's only room for the highlights, really challenge your students to include the most interesting facts.
Source: TeacherThrive
10. Stage a wax museum in your classroom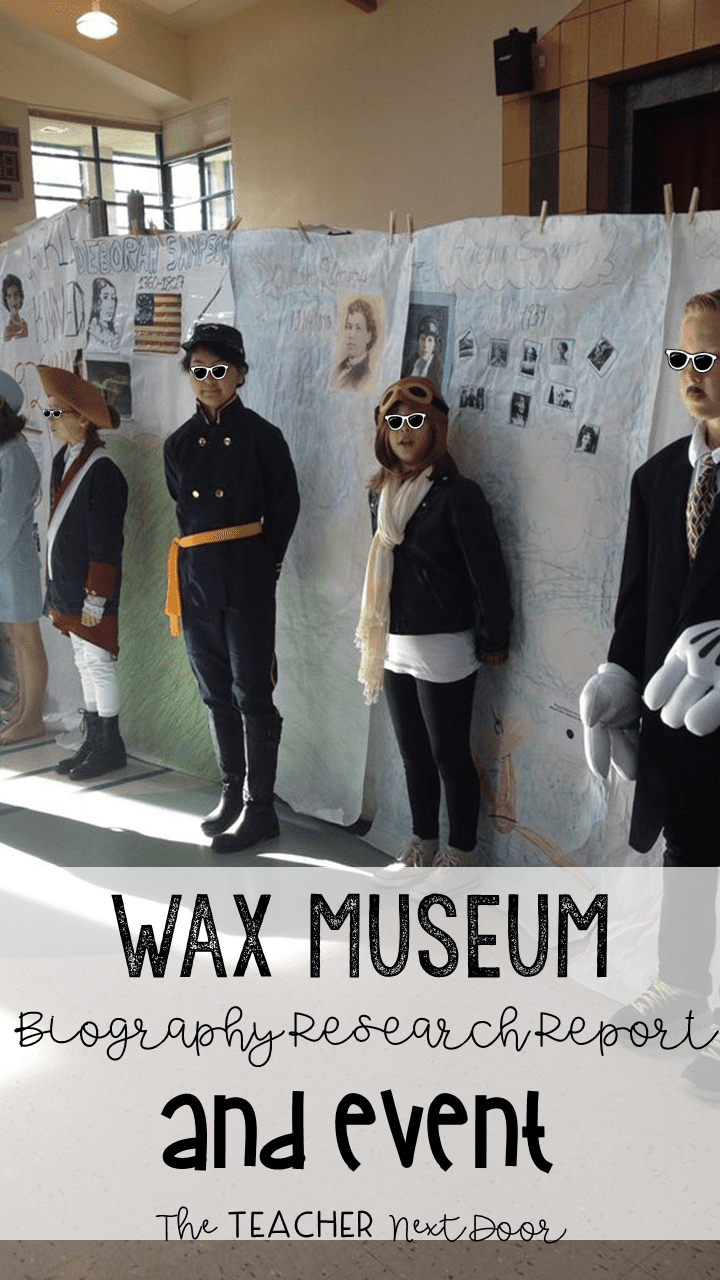 This is such a fun, engaging project. It really encourages your students to imagine themselves as the famous historical person that they're studying. Encourage your students to really get to know and celebrate some of the great women in our history.
Source: The Teacher Next Door
11. Make an accordion book of great moments
This is a great way to document different times in history. Assign students a specific era or split up an era among the class. You can focus on a narrow timeframe of just a few years or whole decades. Then have students create a book like this one!
Source: Imagination Soup
12. Create a quote board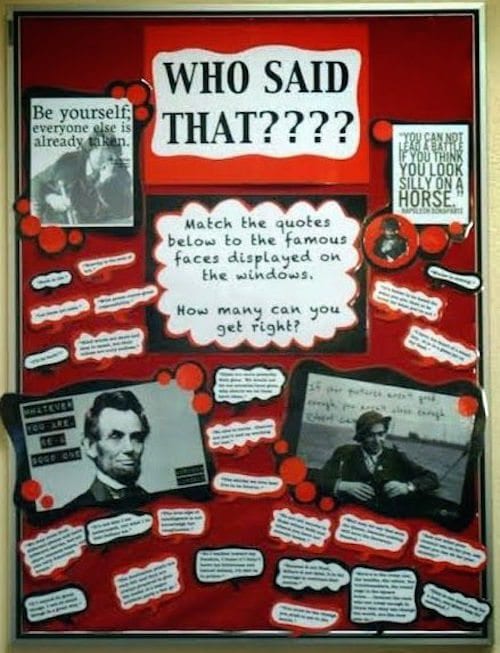 Have your students find famous quotes or phrases from women in history and then create a bulletin board to display them. Make it a quiz and reveal the answers with a lift-the-flap answer key. Or you can match the quote in fun or visual ways.
Source: School Library Displays
13. Play Guess Who? with famous women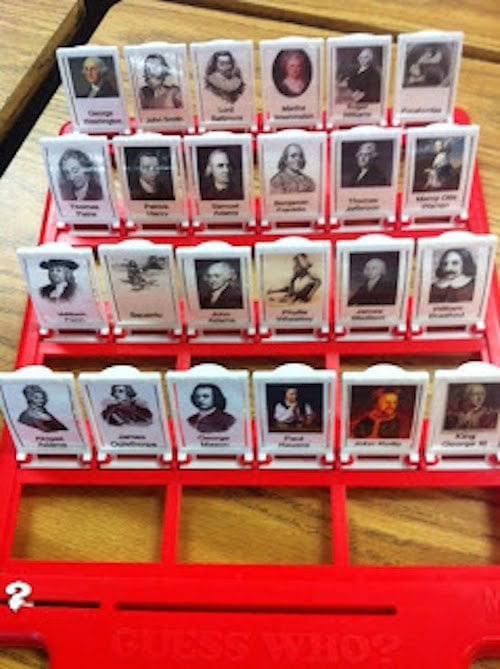 With this quick and easy tutorial, revamp a classic Guess Who? game with images of famous women. Have your students guess the identity of their opponent's famous figure by asking questions about the time period in which she lived, her influence, and her legacy.
Source: A Crafty Teacher
14. Try a Women's History word search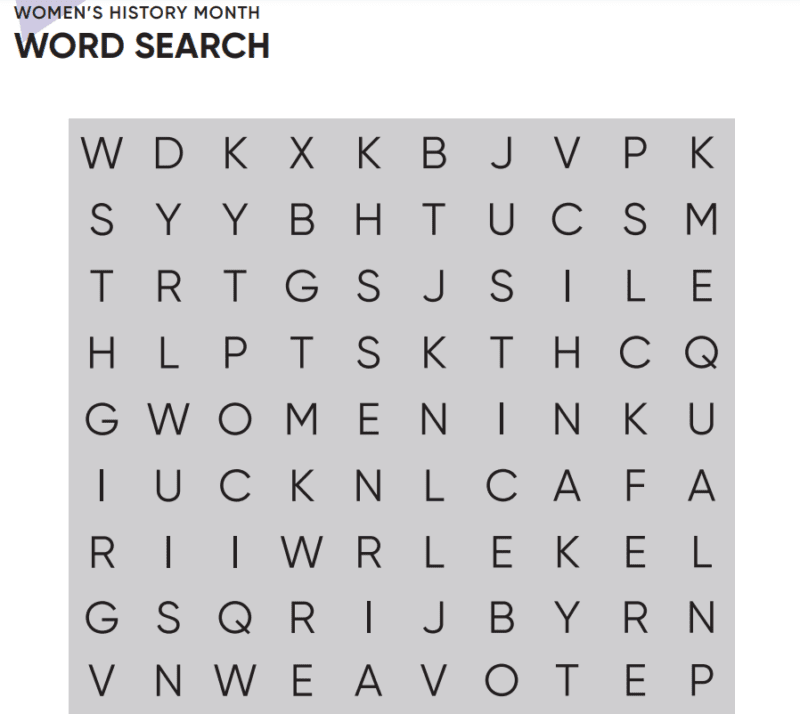 Ideal for Grades 2-4, give your students a copy of this word search puzzle and ask thought-provoking questions. Do the words have anything in common? Have you noticed a theme? What words could be added? How are these words connected to women and voting rights?
Source: Houghton Mifflin Harcourt
15. Blast off with Mae!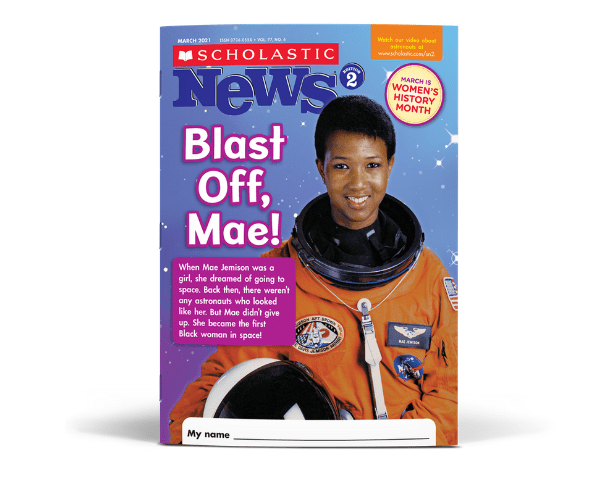 Read Mae Jemison's journey to becoming an astronaut. The teacher resources for first grade and second grade include a background-knowledge building video, vocabulary slideshow, and online game.
Source: Scholastic
16. Explore women's history on BrainPOP
BrainPOP offers a number of free movies, texts, games, and lessons on famous women in history. Assign each student (or pairs of students) a historical figure. Ask them to do research on the woman they were assigned and then give a presentation to the class. You might make this even more interesting by asking your students to sort the women into groups based on what these figures have in common (e.g., careers, lived during the same era, etc.).
17. Believe in magic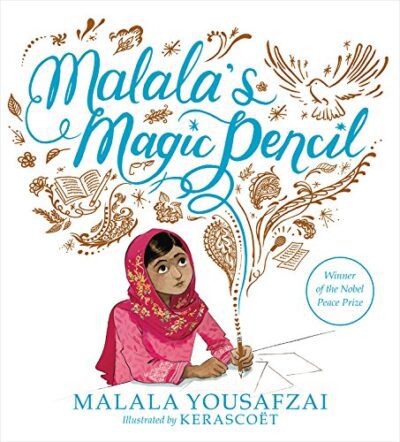 Read Malala's Magical Pencil with your class and spark a discussion about what it means to speak up for something you believe in. This resource includes great questions to promote critical thinking and a meaningful conversation.
Source: National Education Association
18. Explore the deep sea … and outer space!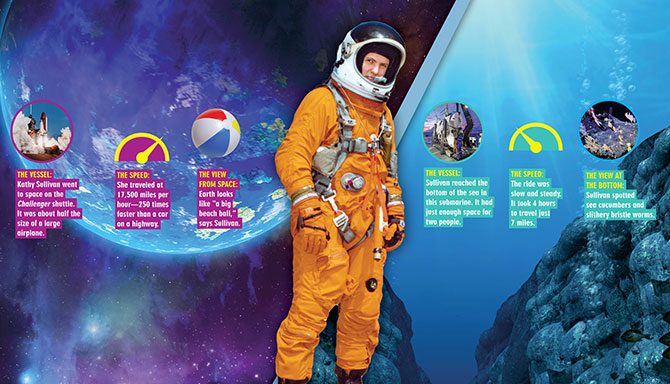 Kathy Sullivan is a truly remarkable woman. She made history for becoming both an astronaut and a deep-sea diver! Learn more about the inspiring story of this explorer with resources, including text feature skill sheets, vocabulary, a NASA video, and a quiz designed for middle and high school students.
Source: Scholastic
Want more activity suggestions? Be sure to subscribe to our newsletter so you can get our latest picks.
Share your favorite Women's History Month activities in our WeAreTeachers HELPLINE group on Facebook.
News
We might live in a digital age, but students still need to use pencils. There's tons of research about…