338 total views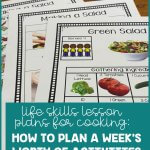 Developing life skills lesson plans for cooking and helping administrators and others know how beneficial it can be to our students can be tough. Cooking activities in the classroom need to go beyond the simple act of cooking the recipe. There are a ton of skills we can teach, pre-teach, and review with the lesson that we can spend a week focused on one cooking activity—1 recipe. And we can differentiate it with a variety of goals to help all the students participate.
But with everything else going on in your classroom, it's sometimes hard to justify time spent cooking, which seems special and fun for students and staff. It also can seem like a huge headache if you try to cook more than one time a week. And sometimes even that is too much. So let's look at how you can plan out a week's worth of activities from 1 cooking unit. You can probably even stretch it to two weeks, but I though one would be sufficient. However, never be afraid to repeat a recipe or to make the same one two weeks in a row. Familiarity with the recipe and the food can help students acquire more skills than always having something new.
Lesson Plans for Cooking
First, let me start with examples of lesson plans. Please don't be overwhelmed by them, because I swear once you get them set up, they are easy to maintain. I talk about the lesson plans in this post in more detail.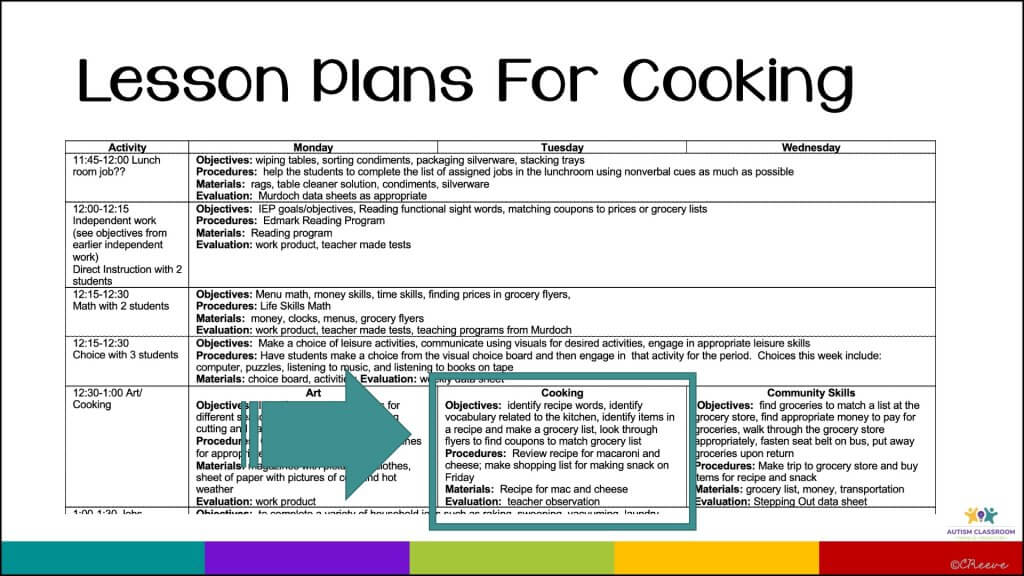 And I know that many of you may not write lesson plans. And I talk about why I think lesson plans are important and useful for all the teaching staff in this post. The main element here that's important is that lesson plans tell all the staff not just what the activity is, but how to do it and what the goals are. That can be important when you need staff to set up activities for independence, rather than just prompting the students. It helps if they know WHY it's important–what skills are being worked on.
In this example of lesson plans, you can see that the class didn't cook everyday. We also had art and community skills. The class cooked twice a week. I've worked with classes that have it as a daily activity and others have had it weekly. Even if you don't want cooking on your schedule everyday, you can implement the activities I'll describe here across the week just by folding them into other activities. So you might use the presentation in morning meeting. And you might have them sequence first in their direct instruction with the teacher. And later they might practice the sequencing tasks in independent work.
Different Grades and Ages for Life Skills Lesson Plans
Clearly what the activities look like when you are writing life skills lesson plans for cooking are going to look different for different grades. The complexity of the cooking activity will be different. So you might be making a snack with an early elementary classroom. But with high school, you might be planning a whole meal, going shopping and more. Because in high school we are working on life skills lesson plans and the need for independence in cooking as a life skill is important. But for the younger students, we might still focus on independence in the steps, but the cooking activities will work to build language opportunities, socialization skills, reading, math and more. I'm always about life skills lesson plans that get as many skills practiced as possible.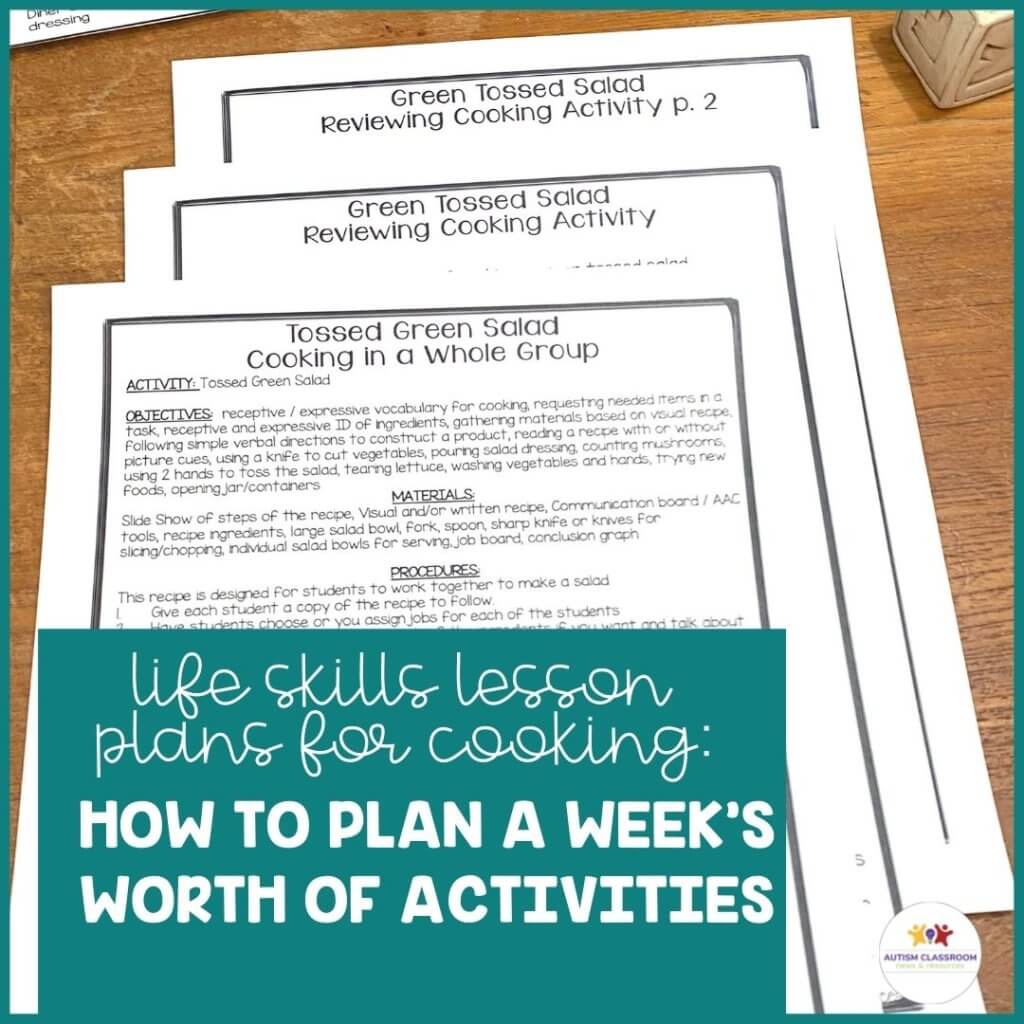 Choose the Cooking Activity for the Lesson Plan
Obviously, the first step in any life skills lesson planning is choosing what the focus of the activity will be. I'm going to choose units that are available in my TpT store. You can do these activities without them. However, the units in the store include ready-made lesson plans and pacing guides that can save you time when integrating them into your class plans.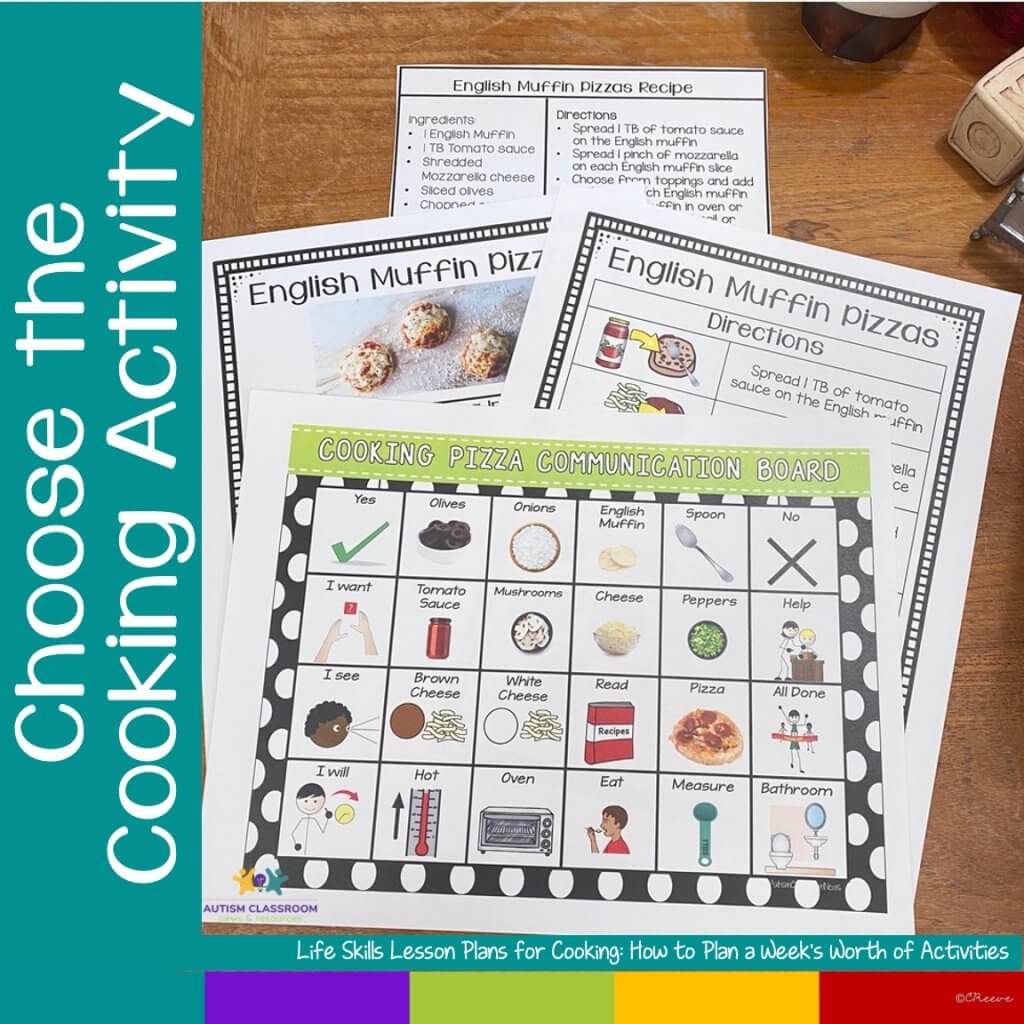 When choosing a cooking activity, you obviously are going to choose one that fits the resources in the classroom. Don't have a heat source like a stove or oven? No problem, make a no-cook recipe like a green tossed salad. And you have to think about safety and student skills. For instance, are your students working on cutting with knives or is this something you should have items pre-cut for. Or can you assign different jobs to students based on their skills?
Monday-or First Activity on the Life Skills Lesson Plan
Step 1 is reviewing the recipe and activity that you are going to be doing. So for the Green Tossed Salad unit, for instance, you would review the slide show of the steps of the recipe. You can use them as cloze activities as well for students to fill in the blanks by raising their hand to answer or with their communication device. You might do this in morning meeting as a group.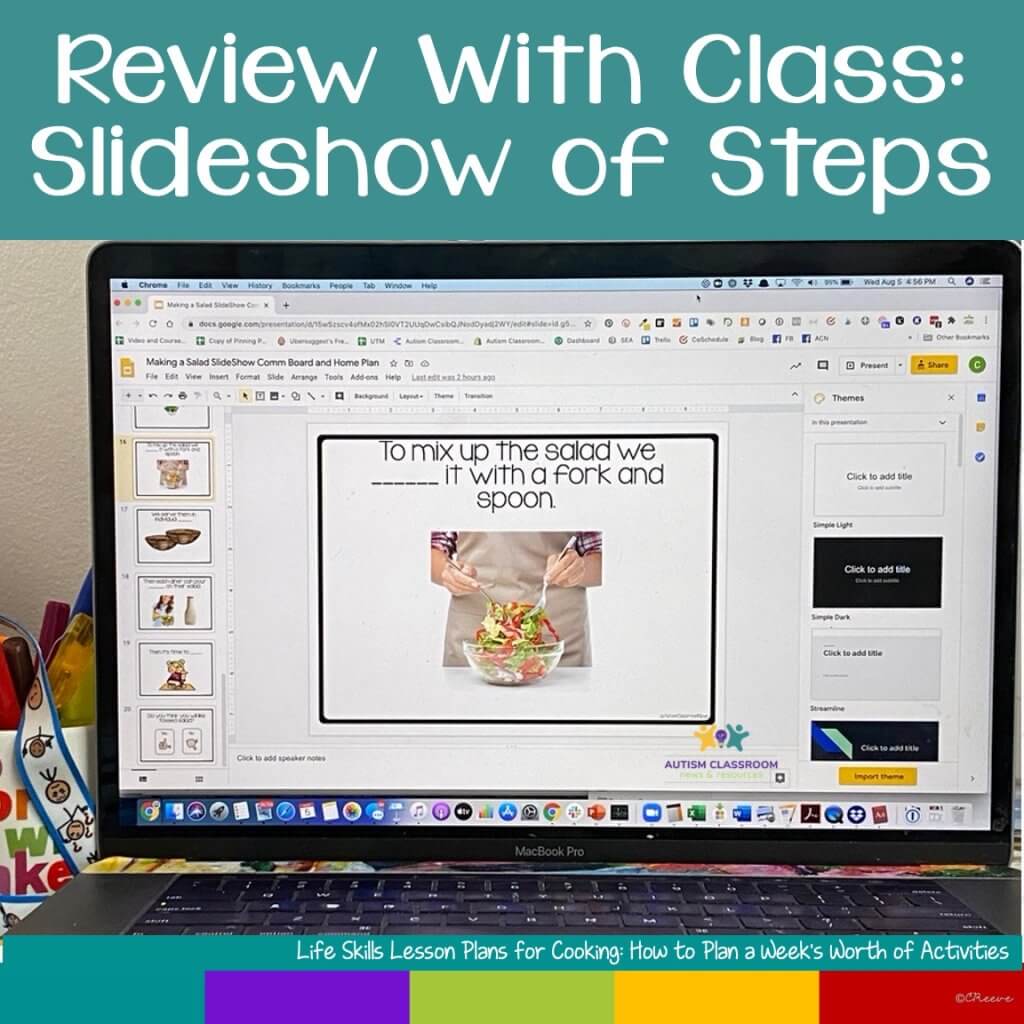 Then have the students make a prediction about whether they will like the salad. They can graph the responses on a template by just putting their name in the box their prediction.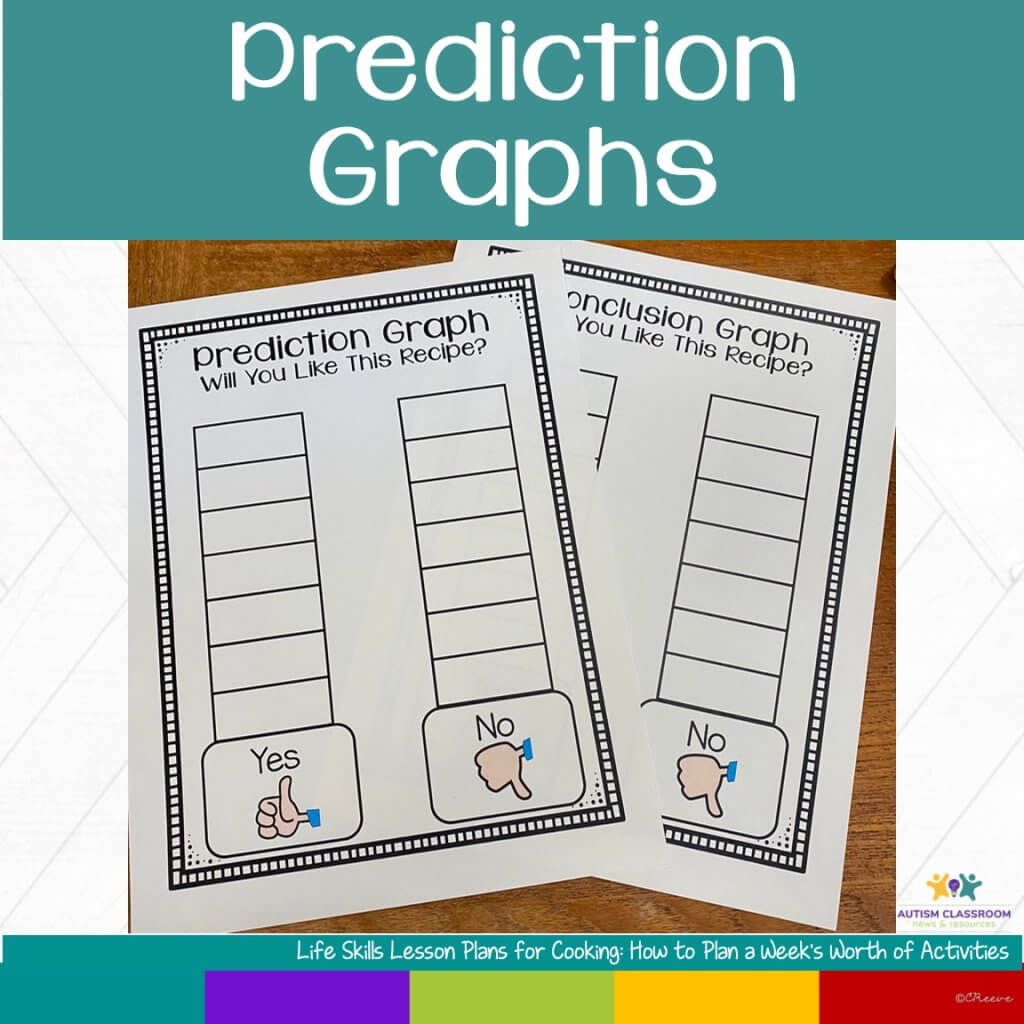 The students also can review the visual recipe (or the one without pictures) to become familiar with the steps. You are looking at building vocabulary, identifying ingredients, and you can also work on graphing, interpreting graphs and more with the prediction activity.
Tuesday-Identify the Ingredients
Part of cooking life skills lesson plan is always about learning about new foods as much as it is about cooking. So it's helpful to take some time to have the students review the ingredients. They can also work on locating the ingredients in the classroom. And you can work on expressive and receptive vocabulary.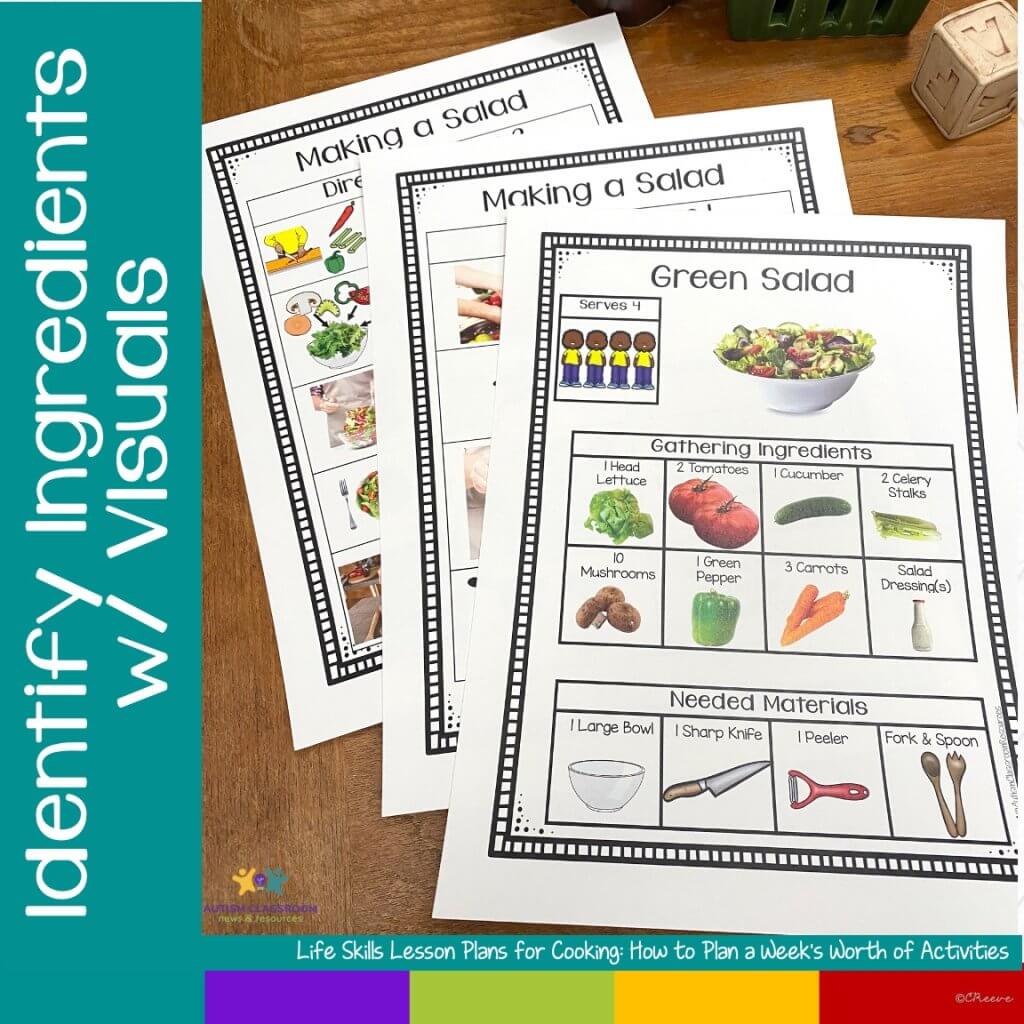 This is also a tool that you could send home for homework. They could work with a family member to find the ingredients in their kitchen and talk about it.
You can use the visual recipe as a tool to help students know which words identify which ingredients. Or don't use the pictures and work on reading comprehension with the ingredients list.
Wednesday: Cook the Recipe
First, I would always start by reviewing the recipe again. You might allow the students to taste the ingredients, if they are cooking with their own materials. If they are working as a group, they may be assigned a specific job.
In addition to working on independence in life skills, this step can also include many academic tasks. For instance, have the students measure out the ingredients. Or count the number of items.
And of course the best part of cooking the food is that you also get to eat it. So that gives you another opportunity to see if their predictions about liking the item were right or wrong. You can then add the responses to the graph and compare the two graphs to each other. This could even be a writing activity if you needed one for compare and contrast.
Thursday: Review the Steps and Sequencing
After the cooking is finished, the next day is a great time to revisit what they did. This is a good time to complete a visual worksheet or reading comprehension worksheet. The one shown here is from my Tossed Salad Cooking unit. Curricula like the Unique Learning System often have these types of activities with the cooking activities as well.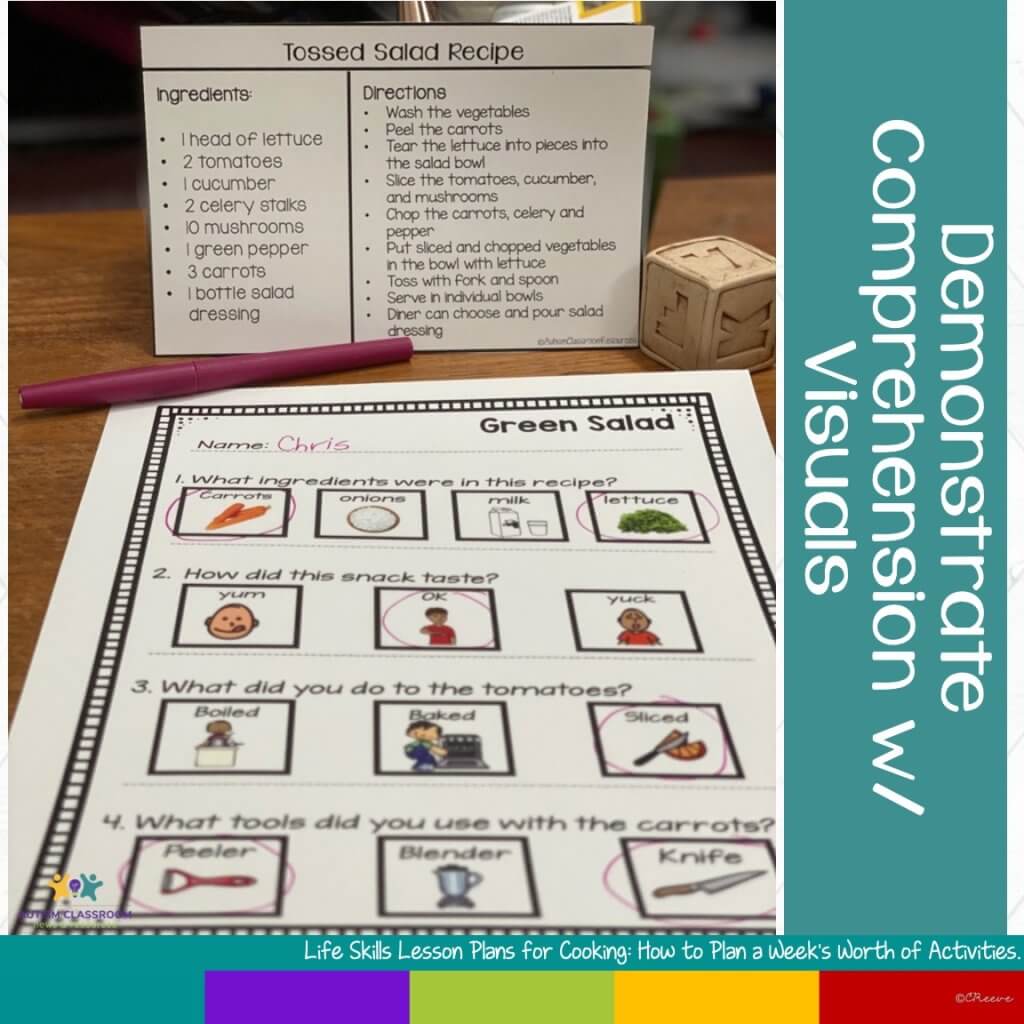 It might be helpful to review the steps of the cooking activity visually, like in a slide show, before you do the worksheet to refresh their memory. You could also add some journaling into this step for students who need to practice writing skills. They could write out the steps and write about whether they enjoyed the activity or not.
Friday: Reviewing the Sequencing
This is a great time to work on language skills and talking about the activity. Many of our students have difficulty retelling an event and putting the steps of what happened in order. you can use the visual recipe and other tools from the activity to cue their memory about what they did. And then have them put the steps in order. This could be by putting pictures from the recipe in order, or writing out the steps in order, depending on your students.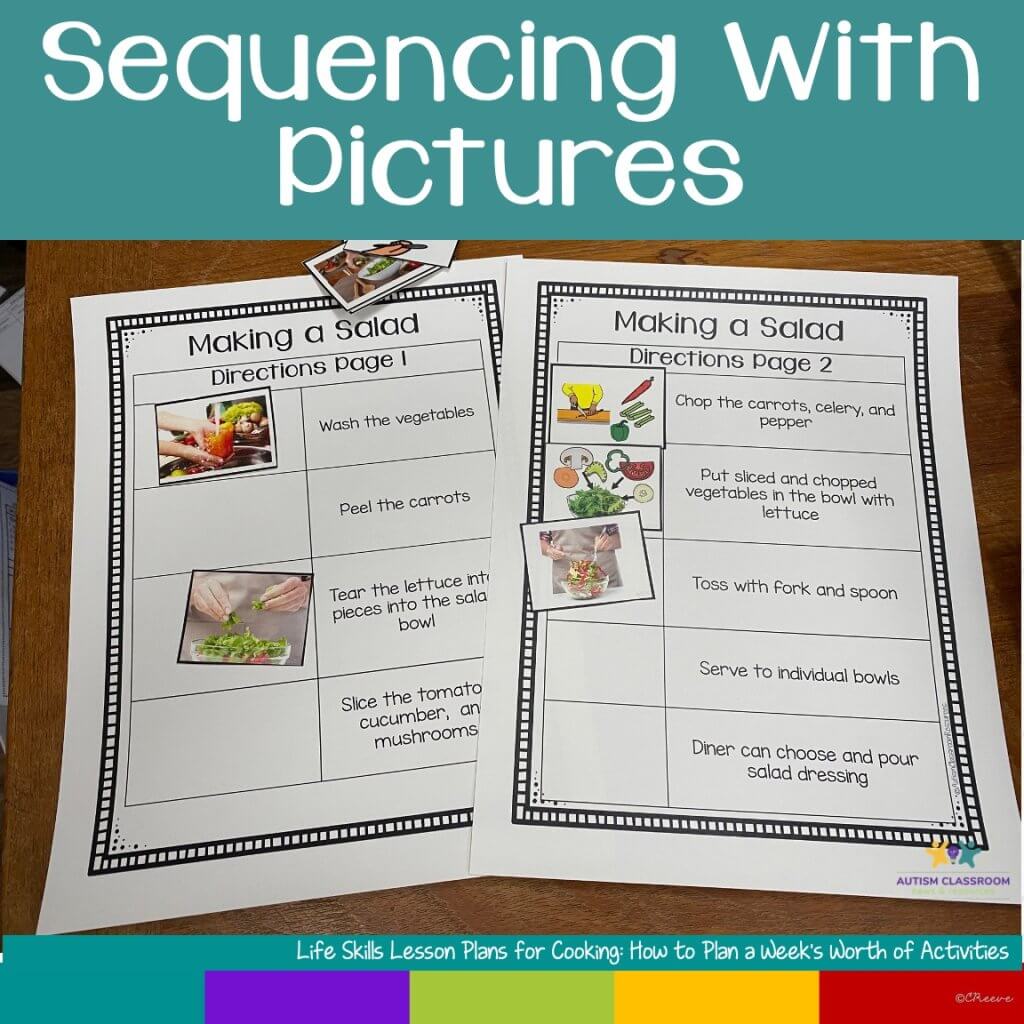 If your students each had a different assigned job, this is a great time for them to present to the class what their job involved. This gives the students the opportunities to hear more about different parts of the life skills lesson that they didn't directly experience. You can also add follow up questions, like what was your favorite ingredient. Or which item in the salad did you like least?
Wrapping Up the Life Skills Lesson Plan
So there you are, 5 days of activities based on one cooking activity. To make it even easier, the cooking units in my store, like the one shown above, have lesson plans with the objectives and steps laid out for you for previewing, cooking and reviewing. That makes it super easy to drop them into your lesson plans for your classroom. In addition, they have the visual recipes, slide show, and even a communication board to help students communicate while cooking.
So if you are looking for easy life skills lesson plans with cooking in the classroom, grab the two units in my store below. I have another one I need to add for Ants on a Log. These were all developed as part of the Special Educator Academy for a cooking workshop. So if you are a member, you can grab those inside the membership. You can learn more about the Special Educator Academy here.
In each set I included (in print and Google Slides)
Picture-based and written recipes
Digital or printable presentation with fill-in the blank for practicing vocabulary
A slide for making a prediction of whether they will like the dish they are making
Lesson plans previewing the lesson, cooking and reviewing the lesson as well as evaluating progress tips and plans
A Pacing Guide that could be shared with parents or paras for planning purposes to extend cooking activities throughout a week
A symbol communication board with core vocabulary integrated to assist in answering questions
Graphing templates for prediction of whether they will like the recipe and did they like the recipe and completing compare and contrast
Picture and Word-based sequencing templates of varying difficulty from 2-items, 4 items and 6 items to sequence
News
We might live in a digital age, but students still need to use pencils. There's tons of research about…