126 total views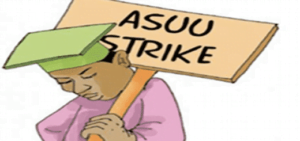 I posted a few minutes ago that ASUU has embarked on a nationwide strike. If you are a Nigerian and above two years of age, then you should be familiar with this second national anthem "ASUU STRIKE".
Now, to some persons; "why should ASUU Embark on strike this critical period" and for others, "this ASUU strike is not bad". I don't know whether the ASUU will end the strike soon. However, I am not here to discuss that.
Back to the topic at hand; 5 set of persons that will benefit from the ASUU Strike. It is certain that this ASUU strike is a dream come true for so many persons knowingly or unknowingly. Quickly, here are those who will benefit from the Strike action announced by ASUU.
1. Those Who Are Tired Of School
So many students are "on this table" I am shaking. For one or two reasons, they are just tired of school and need some time to think about their life.
If the reason you are tired of school is to discover and maximize your potential, review your life, think about how to be a better student, or up to something good, then the ASUU strike is the best time.
2. Those WithHeld Waec Results
These persons are somehow in the same shoes as the guys using Neco awaiting results. However, they are more uncertain than them
The west African examination council promised to released withheld results soon. If you are sure that no malpractice was recorded in your center then there is every probability that your results will be out soon. If the strike persists then better for your admission screening.
3. Student Bloggers
To student bloggers, the school has been a big distraction. You hardly focus on your blog while school is in session (unless you want some Fs). We always pray for holidays to come, and now something bigger than holidays is here.
Are you a student blogger, write as many posts as possible and drive as much traffic as you can. In fact, make money writing posts on asuu strike. But: Don't copy my articles too.
4. The Hustler
So many students bear the burden alone; while few are learning skills so as to be independent. School sometimes distracts you from hustling. Because money must be made, you need time to enter street and make cool cash. Asuu has given you a golden opportunity.
Whichever way, if you have one or two personal projects you are working on, then you need time out of school to prove yourself. Ensure to maximize your potential during this period.
5. Those Who Need More Study Time
School even distracts you from some academic activities. For serious academic and personal development, you need to go beyond what you are being taught in school.
This is the time to do that. If you have courses to cover, then quickly do that now. Remember, it is not what you score in class that matters but what you finally score in life.
News
Are you wondering how many hours in a day should you study? You are not alone. Many students are…