81 total views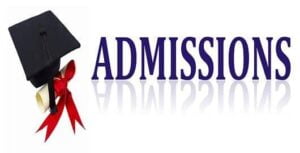 Have you ever checked Jamb Admission Status and it still shows Not Admitted? There are two things involved. It is either you are yet to be admitted or won't be admitted at all.
There is hope for you if Admission is still in progress for that year. On the other hand, If your school has stopped giving admission then you have missed admission for this year.
The fact that you are refused admission to study at the University this year is not the end of life. Put yourself together; you are not a failure. You can always come back stronger next year.
There are many reasons you may not gain admission even with a high score in Jamb and Post UTME. You may want to see them here.
1. Stay Calm And Don't Lose Hope
Your mindset determines your life-set. Do not give up or lose hope. After all, the university only denied you admission this year and not forever. Another time, your name will be on the admission list.
It doesn't matter if this is your second or third time of applying for admission through Jamb. What matters is that you are not giving up. Those who were admitted before you are not necessarily better than you. You can still make it if you really mean it.
Recommended Articles
2. Don't Rush And Buy Jamb 2022 Form
Socrates was a great philosopher, whose image and thinking was associated with the word of the Delphic Oracle (Man, know thyself). He made a statement I love so much, "The unexamined life is not worth living".
You were rejected the first, do not reapply immediately. Instead, go to your closet and begin to examine yourself. Begin to trace where you missed it. Whether in Jamb or in Post UTME. Ask yourself questions like
Why did Jamb not give me admission?
Why is my name not on the school first and second batch admission list?
Could it be that I did know the best way to prepare for the exams? or I wasn't prepared at all?
Did I forget what I read in the Jamb and Post Jamb Hall?.
Did I even understand or remember what I read? Something may have happened in the exam hall.
There is certainly something you have to tell yourself about it. Make sure you are not guilty before pointing fingers.
Remember, telling yourself the truth is honesty while telling others is integrity. You may not want to tell your parents the truth, but tell yourself.
Recommended Articles
3. Build Yourself For The Next Jamb
Now, it is time to build yourself. You may be asking, what should I build in myself? Nice question. You need to build your mental capacity so as to be able to face the admission challenge next year.
The truth of the matter is that the admission process is always going to be more competitive. You need to constantly update and build yourself so as to be able to stand the test of time. Yesterday's information cannot help you to solve tomorrow's challenges.
Things To Build In Yourself
Build your focus
Build your power of assimilation
You need to step up your study life.
Build your imaginative power.
Build up your speed
You need a mental build-up.
Recommended Articles
4. Read And Follow The Rules
To become a principal, you must be ready to follow principles. Every exam has rules and pattern you need to follow. Read all the rules, terms and conditions carefully.
You may have been denied admission as a result of your failure to follow the rules and regulations given by the examination body. If this is true, it is time to clear all your past mistakes.
Is it through UTME you are seeking admission or other means? Make sure you follow instructions. Go through the syllabus and study past questions like never before to understand how to behave in the exam hall.
Recommended
5. Re-Apply And Prepare
It is time to start the process again. Apply for Jamb UTME 2020 or the examination that will catapult you into the university. Do not make any mistake in the application process. You need to study like never before.
As you prepare, always remember that you are competing with thousands of applicants. Get the right materials, syllables and study timetable.
Recommended Articles
Feel free to let me know how you feel via the comment box and don't fail to share this article with friends via the share buttons below.
News
All kids need to learn how their bodies work and how to take care of them. Perhaps no part…