107 total views
Special education data collection is often most difficult when trying to teach whole group instruction in the classroom. We know that morning meeting and circle time are critical group learning opportunities for our students. Learning to learn is a group activity is a fundamental skill. Plus we target a good number of social and communication skills (as well as behavior) during those times of the day.
Why is Special Education Data Collection in Groups Difficult?
It's really, really hard to run a group activity in which you are trying to engage 10 students with limited attention spans and difficulty with learning readiness skills at the same time. Just running the group and getting in all the skills you want to teach is hard enough. But to try to document how they performed on top of that? It's kind of like riding a unicycle using your hands to pedal while going down a busy freeway. You might have mastered data collection at other times. And you might be comfortable running group. But trying to integrate them is a while different thing.
That's Where the Data Collection System Becomes So Important
So that's why I'm going to share how I create a system of data collection to get assessment of all the goals, without the overwhelm. The true key to most successful data collection efforts are to have a data collection system. That does involve some work up front of planning out how, where and when you are going to take data.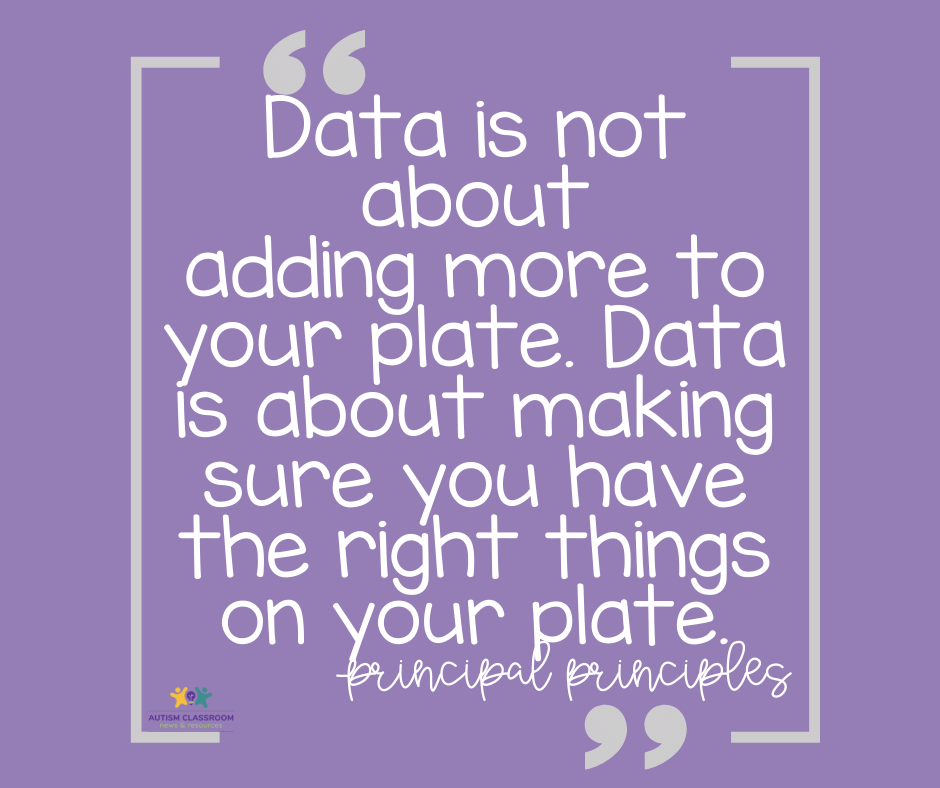 Free Data Collection Tools to Make it Easier
But, you can start out small to avoid getting overwhelmed. I'll have tips for doing that as well throughout this post.
To make it even easier, I have data collection tools you can download and use for free. I have a free printable data collection sheet that you can use to do it. And a free tool to analyze the data once you've taken it. And a free webinar that will show you how I set up data collection systems in the classroom.
Step 1: Plan Your Data Collection
The first step in any good system is to make a plan. This doesn't have to be an extensive plan. But you need to think about what data you need to collect. What skills are your students learning that fit with group activities like morning meeting?
If you are just getting started in the middle of the year, you can go through your IEP to start and make a list for each student of the skills that you want to address in a whole group context. Don't stress about it, because you aren't going to take data on every skill for every student every day.
The Teaching Implementation Plan (TIP) For Planning Your Data Collection
If you have more time to plan your system, I use the Teaching Implementation plan (TIP) to plan data for all the students across the day. It helps me assure that I have targeted specific activities for the students to get lots of practice on a skill. Think about how the skill is going to be taught in those activities. And how to take the data. You can learn more about the TIP in this podcast episode.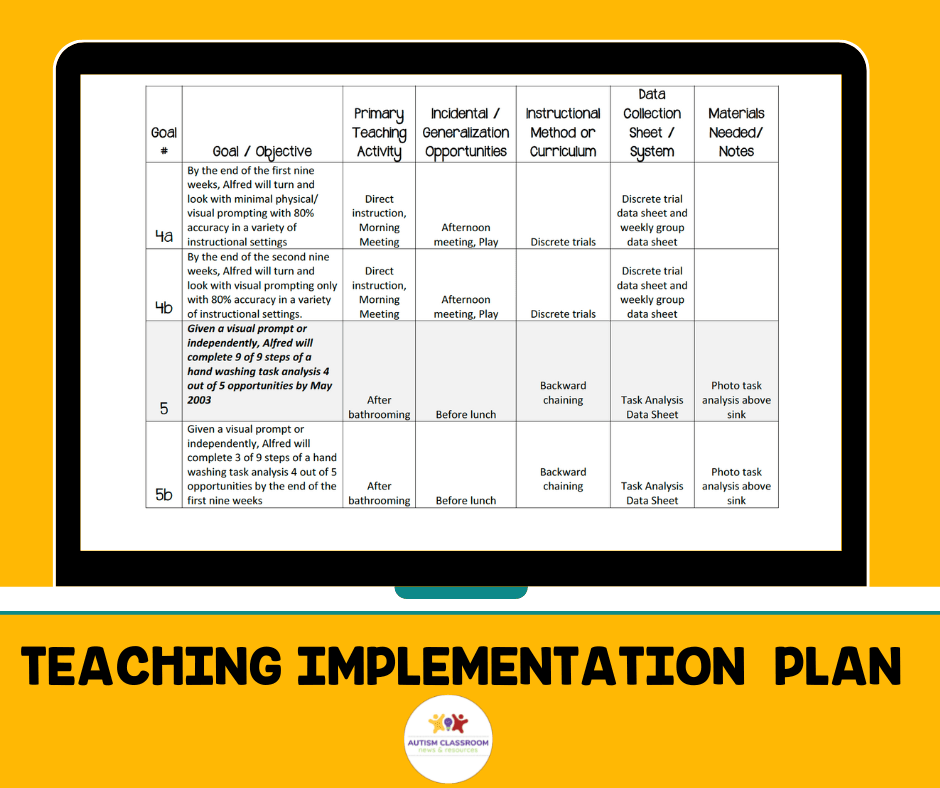 For the purpose of this post, you can use it to look at your students' goals and objectives and plan out primary activities for each goal or objective. The primary activity is a classroom activity where the student needs to use the skill and you have multiple opportunities for him to practice the skill. And it's where you are going to designate you are going to take data on the skill.
You are going to teach the skill in a lot of different activities, but they aren't all the primary. You might have 2 primary activities to focus on for each skill. This becomes important as we move to the next step.
Assess Your Data Targets for Circle / Morning Meeting
Once you have your list (or your TIP) completed, you know what skills you might want to teach and measure during your group activity. The last step in that process is to look over that list and see how many skills you are targeting for each student.
If you have more than 3 or 4 skills to target during morning meeting, and take data on, you might want to scale it back a bit. This is because you want to make sure that you can take the data accurately.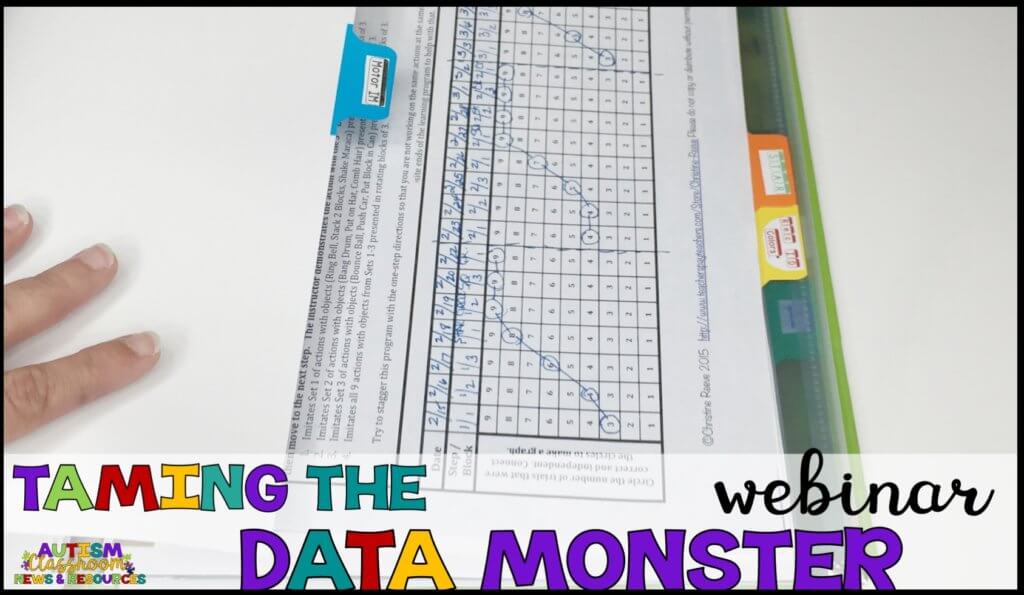 While you won't be taking data on all the students at the same time, you will be taking data on one student's multiple goals or skills. Trying to track more than 3 or 4 while also supporting the group instruction is likely to lead to frustration and inaccurate data. It's just too much, particularly if you and your classroom team are not accustomed to taking data this consistently.
This does mean that you are going to take some things off the list to track during the activity. And that's OK. This is where the TIP is helpful because you can see the bigger picture of moving the skills to other areas for data collection. But for now, just start with 2-4 skills to track for each student. And make sure that you are targeting those goals with your instruction as well.
Set Up Your Data Collection Form (Grab the Free PDF data collection tool below)
Once you know your data targets for the group activity, then you are going to set up your data collection tool. This data collection tool is a group data sheet. That simply means there are multiple students on the form that is being used.
Don't let that scare you. You are going to be taking sample data on the students' performance. We are going to teach all the skills to all the student everyday in group time. But you are going to take data on 1 student each day. If you have 10 students and 2 paraprofessionals, set it up so that 1 person takes student 1 on Monday, 2 on Tuesday etc. and the other takes Student 6 on Monday, Student 7 on Tuesday, etc. (I'll talk about who takes the data in just a moment).
You can grab a free copy of the data sheet and a video tutorial about how to use it in my TpT store here.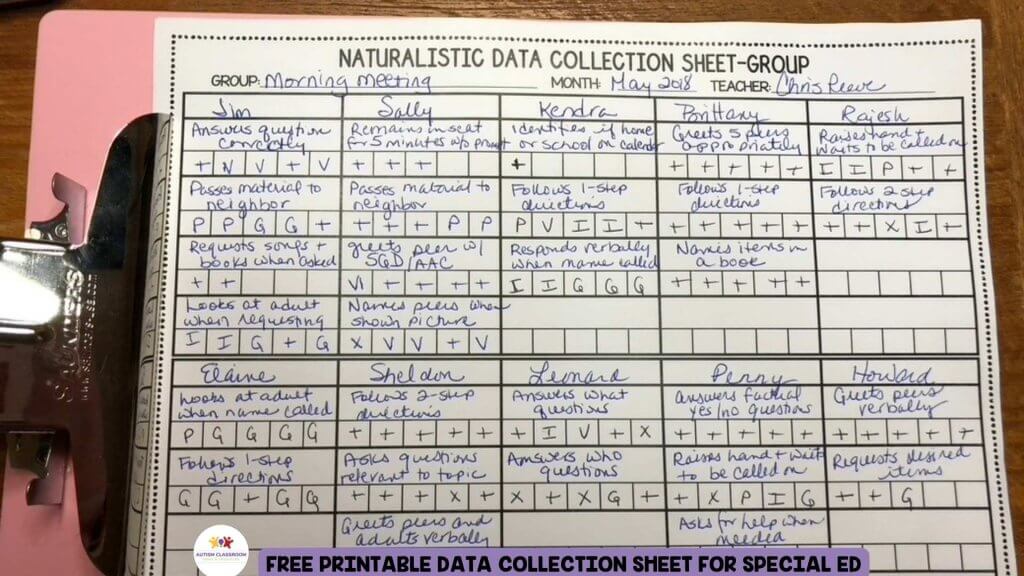 Notes About the Free Data Collection Sheet #1
First, don't let it overwhelm you. It takes some practice to get used to it. Start just taking data on a couple of skills for each student. OR just isolate one skill you are going to track for each student.
Second, yes, I said your paraprofessionals are going to take the data. Or you could have one of them run the group activity (I've worked with many paras who run a better morning meeting than I do). And then YOU can take some of the data and be there to model and problem solve the data collection process.
Trust me I get that delegating such an important task is hard. However, you NEED data being collected by paraprofessionals so that you have hard data on the student's performance when you were not with them. This is an opportunity to train them.
Notes About the Free Data Collection Sheet #2
There are 5 boxes for each skill. The reason for that is that most of our students need more than 1 opportunity to learn a new skill. The benefit from repetition. In addition, data benefits from repetition. One opportunity data point once a week doesn't let us know how how the student is progressing or give us information about how to troubleshoot if there is a problem.
You don't have to do 5. Some skills will only lend themselves to being completed 1 or 2 times during morning meeting. Just make sure those skills get added into another group data sheet to be targeted and assessed in another activity on a different day.
Definitely check out the video tutorial with the free data sheet for more about how to use the form itself.
Analyzing Sample Data
Finally, once you have data collected, you need to do something with it. Just having it in a folder doesn't inform our instruction. And that should be our main reason for data collection.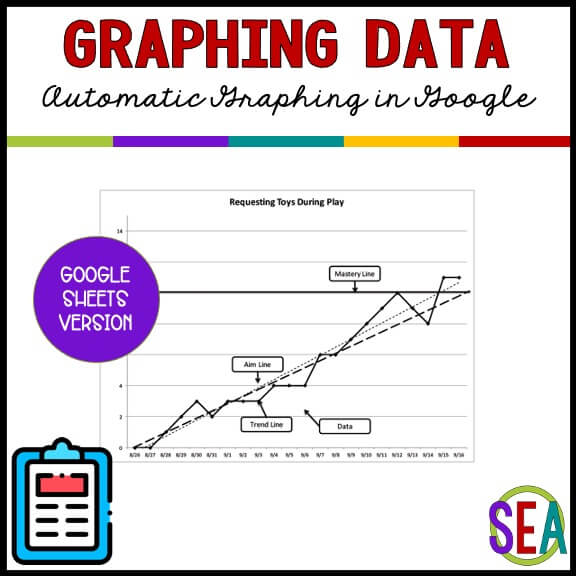 I've got you covered here as well with 2 free tutorials and spreadsheets that will automatically compute and graph up to 3 samples of data for a skill. You can grab the free tutorial and Excel spreadsheet here. And the free Google Sheets tutorial and spreadsheet here.
Don't forget this step. If you add the data in each week, it goes really smoothly. And more importantly you can use the data to track progress. If you leave it until the progress report is done, you've missed the benefit of analyzing a problem…and it takes way too long that night!
Wrapping Up and the Free Data Tools for Special Education Data Collection
There is a ton more to say about data collection in the classroom in general. If you'd like more overview of how I use the group data sheet, definitely check out the free Setting Up a Data System Webinar.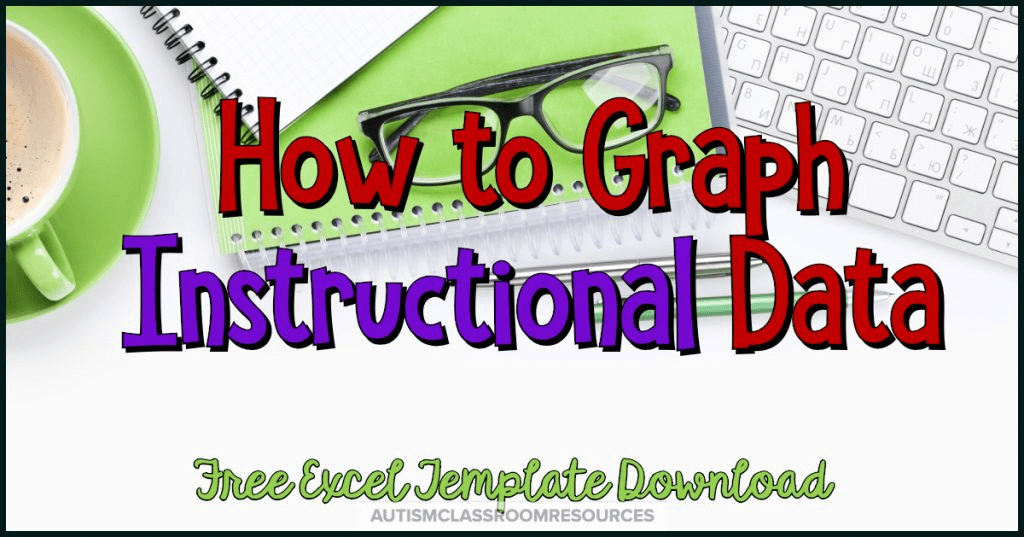 Make sure you grab your free printable data collection tool–the group data sheet–below. And if you want more data collection options, grab the Instructional Data Collection sheets from my store to have more options.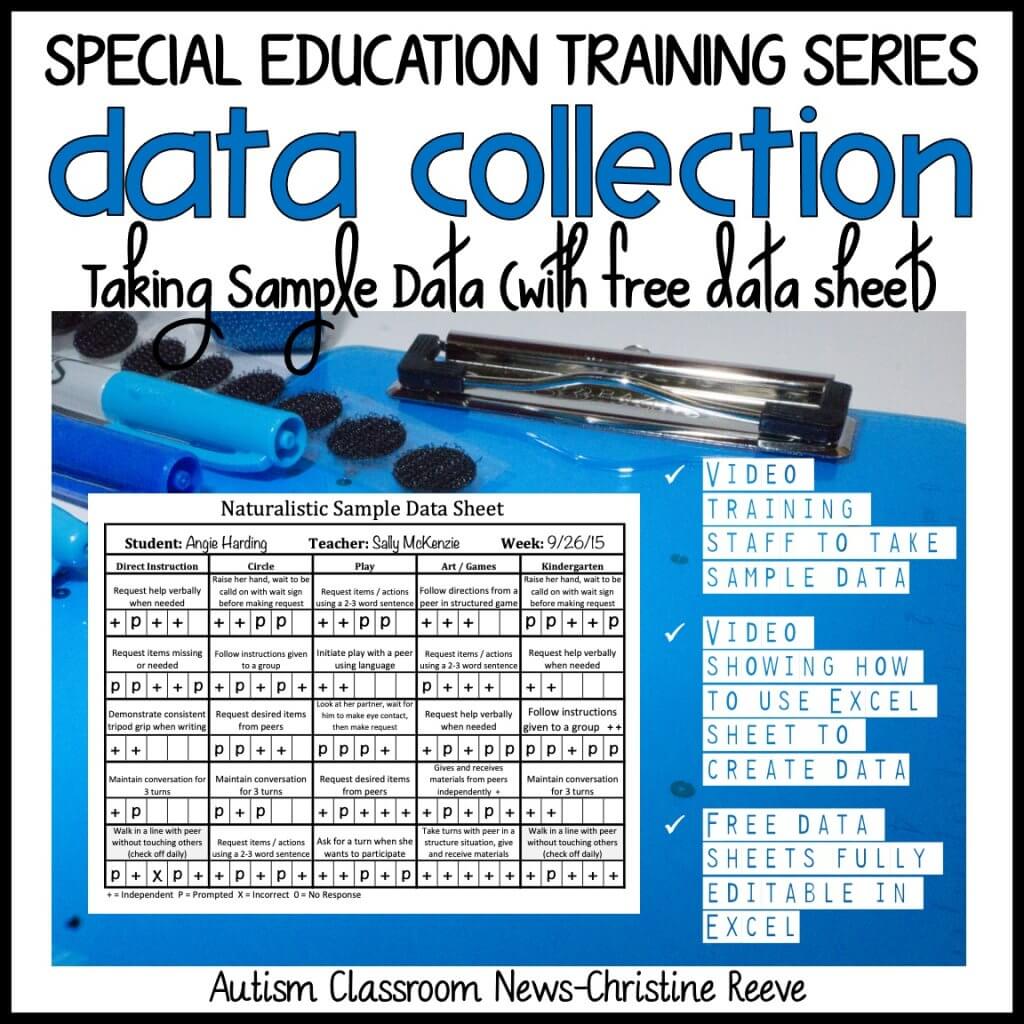 News
Modified On Jun 3, 2023 By Isaac How can you make the most of your university life? What is…