223 total views
Even though we know that whole group activities are essential for our elementary and preschool students to learn to learn in larger groups, creating preschool circle time lesson plans or lesson plans for morning meeting activities can still be a challenge. But, since morning meeting is usually a pretty consistent routine in most early childhood classrooms, once lesson plans are constructed, they don't have to change much each week.
Digital Circle Time Starter Kit with Lesson Plans
As part of the newest morning meeting starter kit, I have FINALLY created a digital circle time kit with PowerPoint and Google slides. And I added a new feature to the kit…lesson plans. And in fact I made them so you can just copy them from the product to YOUR OWN lesson plans! It's all about the easy button, right?
In addition to the digital components, I also included visuals you could print for those students who benefit from holding on to something in their hands. There are tons of response cards and visual supports even though it's supposed to be used as digital.
3 Common Elementary and Preschool Circle Time Lesson Plans
In today's post, I thought I'd share a few of the activities lessons from that digital kit. These are included with the materials to complete them using a projector / interactive whiteboard within the paid kit. There are 23 interactive slides in the set with 13 separate activities you can create from them. So I won't go through them all here. Here is a sampling of some common morning meeting activities you likely complete in your classroom.
Elementary and Preschool Circle Time Lesson Plans
But since I know not everyone will have the whole product, I wanted to outline some common activities for preschool circle time lesson plans that might be helpful. Keep in mind that these activities are designed to work with preschool and early elementary students in special education. They will work for any preschool, special or general education setting. But they aren't designed for older students. I have another starter kit I'm currently revising that will have their own age-respectful activities and lesson plans.
If you want to just purchase the done-for you lesson plans as part of the morning meeting digital kit for preschool and elementary, just jump down to the end of the post and there is a link to my store there. 😉
Overall Elementary & Preschool Circle Time Lesson Plan Objectives
There are some general skills that we want every student to master as part of a whole group activity like circle time. These include In addition, there are some skills that we need our students in special education to master as part of whole group activities. These skills include:
Demonstrate effective communication skills and strategies within school and community activities,
Demonstrate interpersonal skills,
Answering questions,
Looking at the speaker,
Using visuals to communicate and respond,
Follow directions,
Taking turns,
Independently remain in a group activity,
Continue a conversation through multiple exchanges, and
Produce and expand complete sentences in shared language activities
These are all critical skills that our early childhood and special education students are learning. In some of our classes they are still learning these skills in small group activities, and aren't quite ready for the big leagues yet. But setting up morning meeting activities that keep students actively engaged is a great way to generalize those skills.
Counting Which Has More?
This is a pretty common early childhood activity up through kindergarten for most students. And in fact it correlates well with most kindergarten state standards. However, given that many of you are working in smaller special education classrooms, this activity might become somewhat redundant with the same answers every week.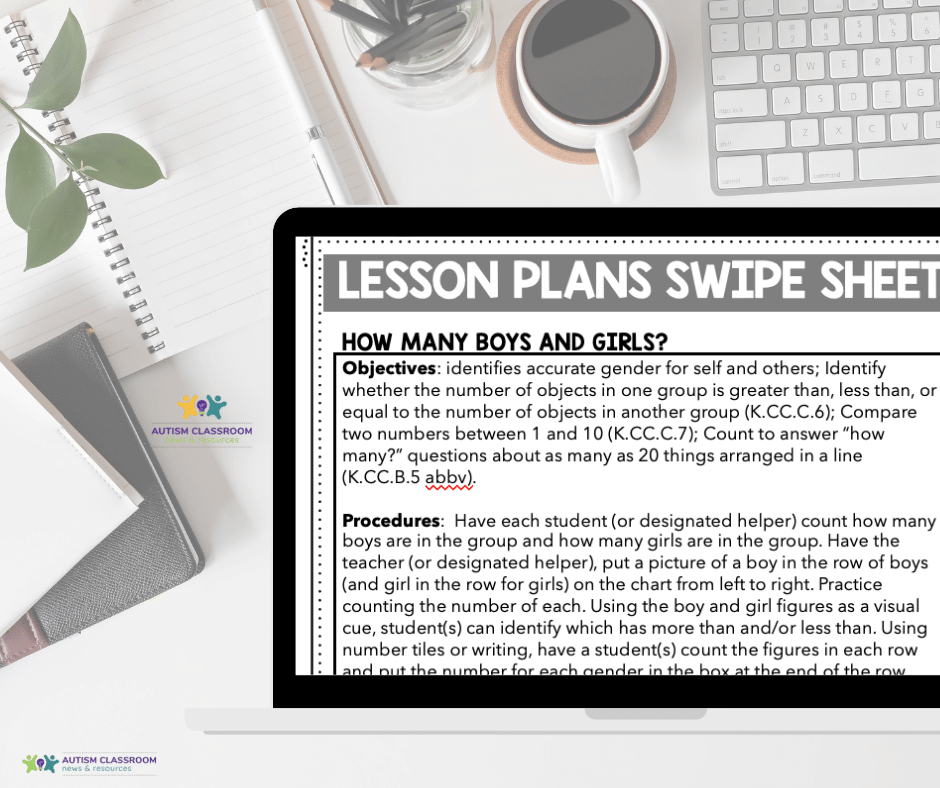 So, spice it up with having students count other characteristics of students other than gender. I created a slide for boys/girls as well as an extra one that you can choose characteristics to have them graph and count, So for instance, have the students count all the students wearing boots and compare to the number of students wearing shoes.
Typically we complete this activity and have students move a visual that results in a graphic display to tell whether there are more boys or more girls. Students can then create a number sentence and add up the number of girls and boys in the classroom.
Which Has More? Elementary and Preschool Circle Time Lesson Plans
Using the Which is More? Board, choose a characteristic for the students to identify (e.g., how many people are wearing red, how many are wearing sandals).
Have each student (or designated helper) count how many people are represented by each category. Using tallies with a marker or the children's pictures (from the who's here board), have the teacher (or designated helper), put a a picture or tally on the chart from left to right for each category. Practice counting the number of each.
Using the tallies or pictures as a visual cue, student(s) can identify which has more than and/or less than. Using number tiles or writing, have a student(s) count the figures in each row and put the number for each category in the box at the end of the row. Have students read and solve the number sentence formed.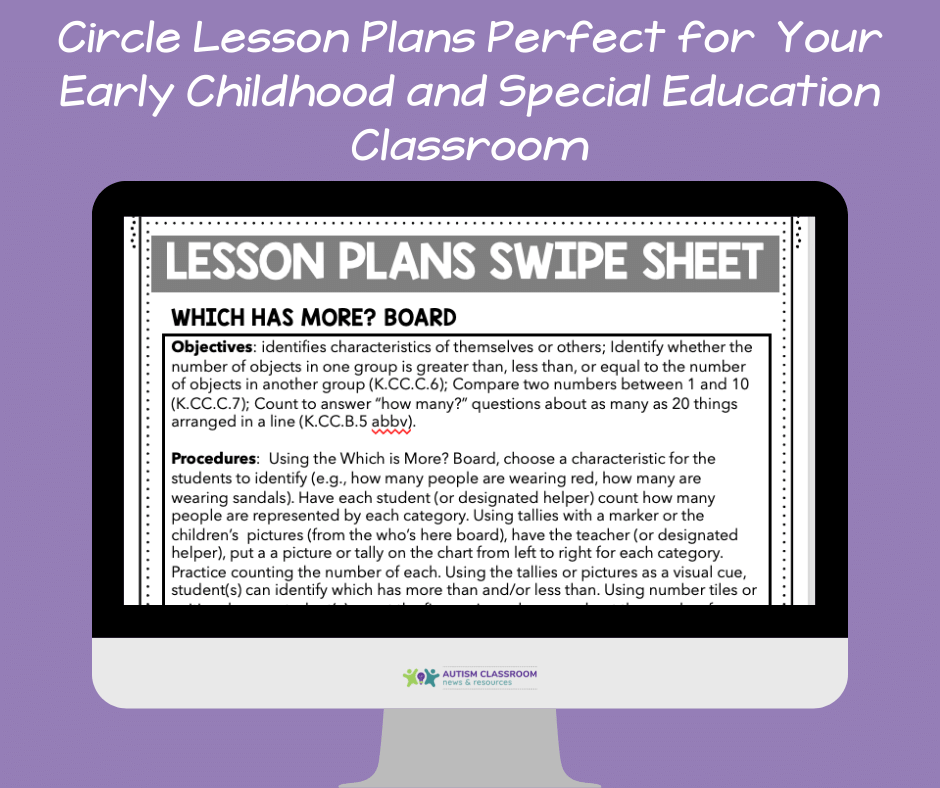 Which Has More? Objectives
Identify characteristics of themselves or others;
Identify whether the number of objects in one group is greater than, less than, or equal to the number of objects in another group;
Compare two numbers between 1 and 10;
Count to answer "how many?" questions about as many as 20 things arranged in a line.
Materials
How Many Digital Board on Whiteboard
Marker or number tiles
Evaluation
For all the activities, I use a group data sheet with weekly samples to collect the data on IEP goals and any other curriculum skills you need data for. Check out this post for information about the group data sheet. Plus I have a free tutorial on using it in my TpT store here with a free download!
Song Board Circle Time Activities
I love using song boards and singing in morning meeting and particularly in preschool circle times. Students often engage with music in a way they won't with other activities. But you have to be willing to sing with them. Trust me, they don't care what you sound like.
But if you haven't been doing this long, you might ask what we are actually teaching with singing in the classroom. Well it's pretty amazing when you break it down.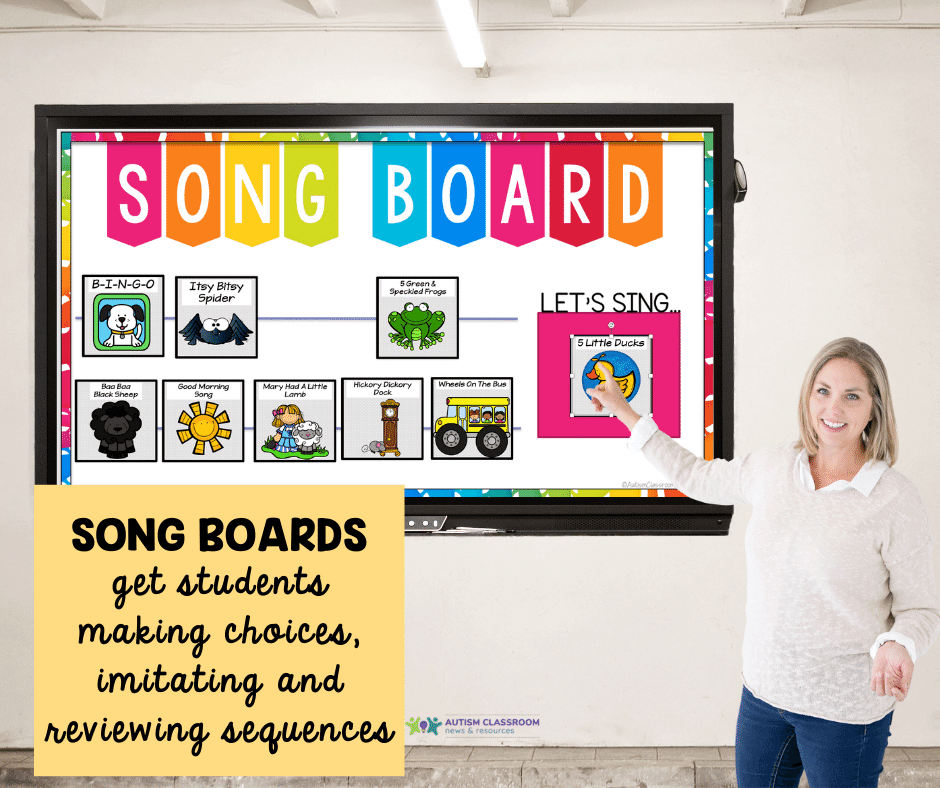 Songs and Song Board Procedures
A Song board is essentially a choice board that students can use to choose which song the class will sing next. It's a motivating activity for many students and gives them the opportunity to practice making choices and communicating with visual supports.
Elementary & Preschool Circle Time Lesson Plans Objectives for Songs and Song Boards Generally
verbally or using visuals students choose songs to sing; imitate models of motions for the song;
follow along with the song responding to verbal cues accurately for each verse;
review sequence of verses using visual cues as needed
Wheels on the Bus Procedures
Depending on the songs that are chosen, there are also other preschool circle time lesson plan objectives that can be met within the song itself. The kit includes Wheels on the Bus, for example. For singing the song, our procedures would be
Use the Wheels on the Bus board for cue the students for each verse;
demonstrate the motions to the song.
After the song is completed, review the different verses in order.
Have students identify which came first, next, last of the verses.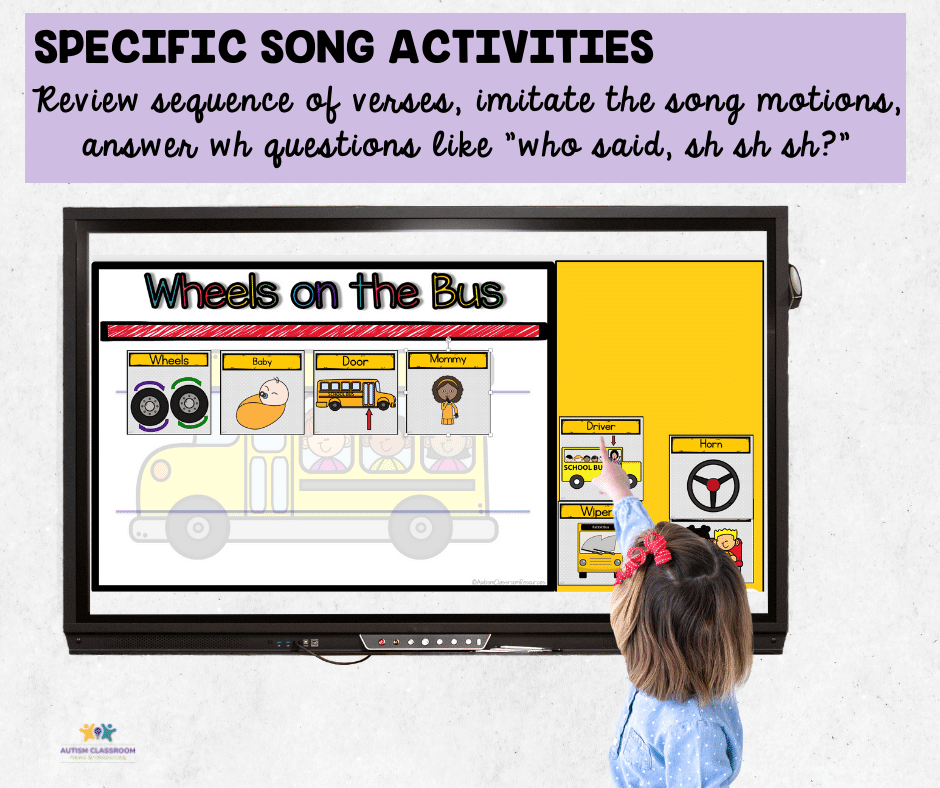 Wheels on the Bus Elementary & Preschool Circle Time Lesson Plans Objectives
Imitate models of motions for the song;
Follow along with the song responding to verbal cues accurately for each verse;
Review sequence of verses using visual cues as needed
So some songs will have counting, others imitating motions, or following directions. Balance out the songs you sing as a way to make sure everyone can participate.
So that gives you a bit of a glimpse into the Digital Preschool Circle Starter Kit for Morning Meeting in Special Education. If you want to grab your already-done for you lesson plans and materials for an amazing, engaging morning meeting, you can find it at the link below.
Looking for lesson plan templates? No worries, I've got you covered!! The lesson plans in the kit can all be easily incorporated with my FREE lesson plan templates. You can find out more about them in this post.
I hope this helps you get started developing a kick-ass morning meeting for your students. It took me a while to get on board with the importance of whole group activities like morning meeting. But when planned well, they can be the most engaging, fun time of your day.
News
Fourth grade is a magical time for reading growth. With more profound themes and complex topics, chapter books for…